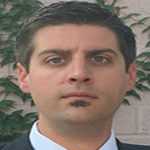 Tucson, Ariz. – Mark Irvin Commercial Real Estate Services, LLC has grown its medical and office property brokerage, development, and consulting footprint with the appointment of Christopher Irvin to the firm's new sales associate position. Irvin, whose real estate license was first conferred in 2005, brings a wealth of experience to the firm, ranging from real estate to food service.
 "We're thrilled that Christopher has joined our team, a move that will help equip us for another generation of success in meeting the commercial real estate needs of the very community in which he was raised," said Mark Irvin, managing member of Mark Irvin Commercial Real Estate. "Christopher embodies the same spirit of service upon which this firm was built in 1995, and that's an unyielding commitment to excellence for our clients and stakeholders, and a deep appreciation for community involvement and philanthropy."
Prior to joining the firm, Christopher Irvin spent ten years in food service as a cook in kitchens across Southern Arizona, including Jonathan's Cork and Wildflower. These experiences called on his creative aptitude, which he says will be regularly tapped in his new assignment that requires a strategic blend of business art and science around issues from marketing to property positioning; from location strategies to tenant relations and retention.
 Christopher Irvin graduated from the University of Arizona in 2017 with a Bachelor of General Studies degree with an emphasis on economy and industry. He received his prelicensure education certificate from the Hogan School of Real Estate in 2018 and completed an internship at Mark Irvin Commercial Real Estate Services in 2006.