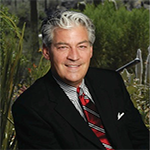 Mark Irvin Honored for MDA Building Deal in Tucson
Mark Irvin, SIOR, CCIM, with Mark Irvin Commercial Real Estate Services in Tucson was ranked on the Society of Industrial and Office Realtors' (SIOR) Top 100 Office Transactions List of 2015 for his 82,942-square-foot deal, securing the 77th spot out of 100.
The lease of former MDA building located at 3300 E Sunrise Drive in Tucson, closed November 2015.
In one of the largest 2015 Tucson office leases, the former MDA building was leased to  Sunquest Information Systems to relocate their headquarters from Williams Center, having leased fully the 82,942-square-feet combined in both buildings. The Company anticipates a move-in date of fall 2016.
Sunquest Information Systems Inc. provides diagnostic and laboratory information systems to more than 1,700 laboratories. For the past 30 years, Sunquest has delivered solutions that optimize financial results, enhance efficiency and improve the quality of patient care. The company's pathology-focused mission, outreach awareness and point of care solutions establish Sunquest as a leader in the healthcare technology industry. Headquartered in Tucson, AZ, Sunquest also has offices in the United Kingdom and India.
The 3300 E. Sunrise office building is considered by many to be an architectural treasure. It was selected by Sunquest for its iconic design, open floor plan, and dramatic views of Tucson's high desert landscape through floor-to-ceiling windows. The building's aesthetics foster employee collaboration and innovation, as well as become an inviting environment to host Sunquest's international clientele.
Mark Irvin, SIOR, CCIM, along with Eric Ramer with Icon Commercial Interests represented the tenant. Andy Seleznov and Melissa Lal with Larsen Baker represented itself as the landlord.
The Top 100 transaction honoree list was announced during SIOR's 2016 Spring World Conference in San Diego, which took place on April 13-16 and was ranked among nearly 580 SIOR members who reported more than 930 transactions, totaling more than $5.1 billion in leases and sales.