The Mark at Tucson Student Housing Land Sale Closes at Broadway & Park for $4.6 Million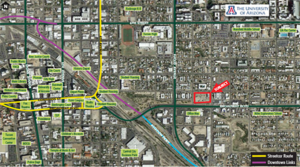 TUCSON, ARIZONA – Landmark Properties, dba The Mark at Tucson, closed August 25th on its second student housing project site at 931-949 East Broadway Blvd. in Tucson for $4,631,375 ($41.49 PSF).
Its first student housing in Tucson, The Retreat Tucson is at 22nd Street and Park Avenue with 189 units and 774 beds. This second project will encompass a full city block at Broadway Blvd. and Park Avenue, bordered by Tyndall and 10th Street, between the high growth are of Downtown and the University of Arizona.
The Mark at Tucson will be on 2.56 acres and have 154-units with 595-beds in a layered 4- going to 6-story building with a five-story parking structure. Amenities will be similar to the Retreat Tucson, with pool, study lounge with computer lab, fitness center and secure bicycle storage.
Ideally suited for student housing, the project will be in close proximity to Downtown LINKS, scheduled for completion in 2018, an improvement project that will provide enhancements and connections for pedestrians, bicyclists, and motorists. It includes a new four-lane road connecting the Aviation Freeway to I-10, improved drainage, bike lanes, multi-use paths, new bridges, public art and a deck plaza above the future underpass on Sixth Street that promises to promote walkability in the Downtown and University area.
The Mark at Tucson is scheduled to open fall 2019.
Buzz Isaacson, First Vice President, and Senior Associates, John Ash and Jeff Casper with CBRE's Tucson office handled negotiations for the seller, Bacon Industries, Inc. et al. of Tucson (Don Rollings, president).
For more information, Isaacson can be reached at 520.323.5151, Ash is at 520.323.5177 and Casper can be contacted at 520.323.5181.
To learn more, login and see RED Comp #5183.