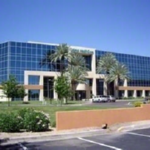 PHOENIX- For the first time in its 162 year history, Massachusetts Mutual Life Insurance Company (MassMutual) has established a corporate presence in the western United States to better serve its policyowners and customers.
The company officially opened its Phoenix, AZ, location today with a special event attended by company, government, and community officials. The 11001 North Black Canyon Highway location houses employees of the company's U.S. Insurance and Retirement businesses, as well as enables the geographic expansion of the company's customer service operations.
MassMutual occupies nearly 60,000 square feet of the office space in the 26-year-old building. The new location diversifies the company's U.S. footprint, allowing for enhanced service to all U.S. policyowners and customers while further mitigating operational risks.
MassMutual plans to employ approximately 400 people at the Phoenix location by the end of 2014. A variety of professional financial services roles will be offered including customer service, sales, operations, underwriting, claims, and technology opportunities.
"This is an exciting time for MassMutual as we continue to grow and rise to the challenge of helping more people secure their future and protect the ones they love," said Michael Fanning, Executive Vice President and head of the company's U.S. Insurance business. "Phoenix is the right location to enable us to provide exemplary service to all financial professionals, policyowners, and customers – regardless of where they live."
The company's U.S. Insurance business includes the development, marketing, distribution, and servicing associated with MassMutual's core whole life insurance product and its comprehensive portfolio of insurance and accumulation products sold in the U.S.  It also includes the technology, compliance, and finance functions associated with those products, which include life insurance, disability income insurance, long term care, and annuities.
MassMutual's Retirement Services business will build on an existing Phoenix team acquired through the company's recent purchase of The Hartford's Retirement Plans business. The Hartford Retirement Plans business had a team of 70 employees in the area before the acquisition closed on Jan. 1, 2013.
"The beauty of this transition is that we already have established relationships and expertise in the Phoenix area," said Elaine Sarsynski, Executive Vice President and head of the company's Retirement Services business.  "Our move to this facility and the integration of additional MassMutual business lines in Phoenix has been a major undertaking, and it would not have been possible without the help and cooperation of numerous people – from public officials to employees to contractors – who worked hard to help us meet our business needs."
MassMutual's Retirement Services business offers a full range of products and services for corporate, union, nonprofit and governmental employers' defined benefit, defined contribution, and nonqualified deferred compensation plans.
In addition to the corporate presence in Phoenix, MassMutual has long served the greater Phoenix area locally with MassMutual Arizona, one of its 82 agencies across the country. The Scottsdale field office, run by General Agent Jeff Dollarhide, has helped to financially protect more than 25,000 clientslocated throughout Arizona and parts of New Mexico since 1953.
In order to provide additional support to the community in 2010, MassMutual opened another office in Scottsdale – Integrated Financial Strategies – run by General Agent Vlasta Duffy.
Both general agencies are active in their communities, supporting organizations like Junior Achievement and working with area non-profits to offer MassMutual's Lifebridge program, a free term-life insurance program for eligible families designed to help protect children's educational aspirations. MassMutual will be the title sponsor for the 2013 Junior Achievement Stock Market Challenge in the greater Phoenix area, an event that brings financial literacy and life skills to thousands of young people across the region.
"MassMutual is excited to build upon these relationships with the community and contribute to the well-being of Phoenix citizens going forward," said Michele White, Vice President of Client Services and site lead for MassMutual's U.S. Insurance business in Phoenix.
In addition to its Phoenix move, MassMutual is also in the midst of an over $80 million construction and renovation plan at its Springfield, Mass., headquarters and Enfield, Conn., location, reaffirming its commitment to economic growth and development in those regions.  That project is expected to be completed by 2014.
For more information, visit https://www.massmutual.com/ or find MassMutual on Facebook, Twitter, LinkedIn, YouTube and Google+.