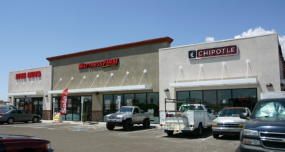 This article has been archived, please login for access or subscribe now by going to the subscribe tab at the top of page.
Mattress Firm opened its 12th store this week. Five Guys Burgers & Fries will open Monday its 5th location in town, while Chipotle's Mexican Grill works anxiously to catch up keeping to plans of opening the first week in September. Where is all this new retail activity happening in Tucson?
It's all going on at the southwest corner of 22nd St and Harrison Road, 9484 E 22nd Street in Tucson. BP SWC 22nd and Harrison, LLC (Don Bourn, manager) bought the 1.2 acres from Wells Fargo Bank in January to construct an 8,164 sq. ft. retail strip center. The property, now complete and fully leased, has been sold to a California private investment group, Parliament Properties, Inc. of Cardiff, CA (Alan J Wallock) for[mepr-show rules="58038"]$3.6 million ($444 PSF) as investment sale.
Five Guys Burgers was named the fastest growing restaurant franchise in 2012 by Forbes. The owners in Tucson have grown to five stores since opening first in June 2010 at Campbell Plaza on Campbell and Glenn. Their 5th location at 22nd & Harrison will be followed soon by a 6th at the Tucson Spectrum, 5315 South Calle Santa Cruz in Tucson. Store hours of operation for Five Guys is 11:00 a.m. to 10:00 p.m., but doors open at 10:45 a.m. daily the owners told us.
Mattress Firm's 12th store is the most recent and farthest eastside location for the firm. Mattress Firm has 32 locations in the Phoenix area. Established in 1986, Mattress Firm started as a small idea of three childhood friends. Paul Stork, Steve Fendrich, and Harry Roberts began their careers believing that quality merchandise should be available at reasonable prices and sold by honest sales people who specialized in product knowledge and customer service. On July 4th 1986 the founders opened the first store in Houston, Texas. Mattress Firm now has over a thousand locations nationwide that are deeply imprinted with the values the three founders agreed upon: trust, passion, and growth.
Mattress Firm has also placed value within the Tucson market through community volunteer programs such as Habitat for Humanity and the local Ronald McDonald House as well as contributing to funds for the TGen Cancer Pancreatic Cancer Research Lab in Phoenix.
When Chipotle's Mexican Grill opens next month, it will be number nine for the chain in Tucson.
Barker Morrissey was General Contractor for the center.
Alan Tanner with Bourn Advisory Services of Tucson represented landlord on all the leases and also the tenant D&G Holdings for Five Guys Burgers.  Darren Pitts & Bonnie Arlia of Velocity Retail in Phoenix represented  Mattress Firm. Ben Craney of West Commercial Real Estate Advisors in Tucson represented Chipotle.
Tanner may be reached at (520) 318-6624. Pitts and Arlia are at (62) 682-8100. Craney should be contacted at (520) 264-5000.
Paul Schloss, formerly of CBRE in Tucson, handled the purchase of the property for the developer-seller and can be contacted at (520) 977-3800. [/mepr-show]
Login for additional information.
[ismember] Sale price was $3,625,000 on 7/31/2013  Allan Wallock the buying entity managing member is a broker in CA and can be reached at (760) 327-1115  [/ismember]