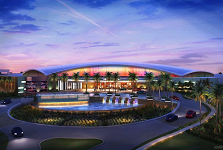 As we were writing the Tohono O'odham casino in Glendale would be moving ahead yesterday, (see Tohono O'odham Nation Moving Ahead with $500 M West Valley Casino / Resort)
U.S. Sens. John McCain and Jeff Flake of Arizona were busy introducing a bill to prohibit any new casinos in metropolitan Phoenix. The measure aims to stop a proposal by the Tohono O'odham Nation to build a major casino resort on its land less than two miles from Jobing.com Arena and University of Phoenix Stadium in Glendale. The legislation is a companion bill to U.S. House Bill 1410, which was introduced by Rep. Trent Franks of Arizona and approved by the House in September.
The Tohono O'odham Reservation largely falls in Tucson and further south. The tribe is using a congressional settlement to designate the land near Glendale as a reservation.
"Despite the opposition's latest efforts, we are confident that Congress, like so many others, will recognize the incredible benefits the West Valley Resort will provide to the region and all of Arizona," Tohono O'odham Chairman Ned Norris Jr. said.
The Glendale City Council opposed the casino plan for years but recently shifted its position, opposing HB 1410 and supporting the casino plans.
To read the full story go to the Republic: https://www.bitsylink.com/?NNGGU