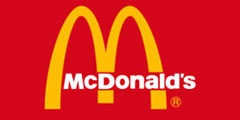 McDonald's broke ground last week on a new 4,500-square-foot restaurant at Houghton Town Center. The less than one acre retail pad was purchased for $790,000. McDonalds will join Walmart, Discount Tire and Panda Express at the center located at 118 acre regional retail center at the southeast corner of Houghton and Old Vail Roads in the Vail area.
The seller, Houghton Developers is an affiliate of Tucson–based Diamond Ventures (Don Diamond, principal). Shannon Murphy with Diamond Ventures, Alan Tanner with Bourn Advisory Services in Tucson and Ben Craney of NAI Horizon in Tucson represented the seller and Brian Harpel of The Harpel Company represented the buyer.
From the Southeast to the Northwest, McDonald's paid $775,000 for a second retail pad at Marana Main Street project. About one year after announcing plans to be the first tenant at the 28 acre Marana Main Street project located at Sandario Road near I-10.
The 4,500-square-foot McDonald's is expected to open this fall under the management of Tucson franchise owners, Vic and Nicole Topper.
The seller was Marana Main Street Development (Chris Monson, director) of Tucson. Brian Harpel of The Harpel Company handled the Marana transaction.
McDonald's also sold a former restaurant at 7202 E 22nd Street in Tucson to Eyebros, LLC dba Desert Star Mechanical of Tucson (Edmund Irving, Billy Fry, and Paul Carrillo members). The 5,118-square-feet of building (built 1985) on a 36,000-square-feet lot sold for $375,000 ($73 PSF) after McDonald's moved to a new location at 22nd and Kolb in Tucson.
The buyer of the former restaurant is an air conditioning and heating contractor that will occupy the property.
Brian Harpel of The Harpel Company represented McDonald's and David Lee of David Lee Real Estate Company in Tucson represented the buyer.
To learn more Harpel should be reached at 520.721.7999; Murphy can be contacted at 520.577.0200; Tanner is at 520.323.1005 and Craney can be reached at 520.326.2200. David Lee can also be contacted at 520.795.3199.