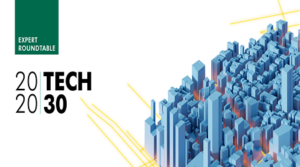 The 2020 edition of CBRE's annual Tech-30 report shows positive momentum for the tech industry, which became an unsung hero during the COVID-19 shutdown by enabling business continuity and remote work.
This year's edition of Tech-30 offers insights on key questions about the tech industry and its impact on employment and office space:
How is the tech industry performing and where is it headed?
Which tech markets are most resilient and poised for growth?
Which tech markets are most at risk from rising sublease space?
How are tech office markets performing?
What do capital availability and financial indicators since March reveal about tech's future growth prospects?
Explore the full Tech-30 report for CBRE's answers to these questions and other key findings.
The CBRE  2020 TECH-30 EXPERT ROUNDTABLE WILL BE HELD

Thursday, October 29
8:00 am PT / 11:00 am ET
Join us as a panel of experts provides an overview of the report and highlights key findings.