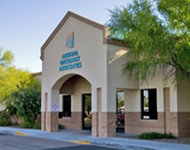 Redyns Development (Harold Snyder, manager) of Tucson purchased the 11,036-square-foot medical building at 1620 W St. Mary's Road in Tucson. The building sold with a leased fee interest in the land owned by Carondelet for $2.9 million ($262.78 PSF). The seller was St. Mary's Silverbell Building, LLC (Mike Wattis, manager) also of Tucson.
The building sold with Arizona Oncology as tenant. Arizona Oncology, a practice in The US Oncology Network, recently announced that its clinic in northwest Tucson has been recognized by the Quality Oncology Practice Initiative (QOPI®) Certification Program, an affiliate of the American Society of Clinical Oncology (ASCO). The QOPI® Certification Program provides a three-year certification for outpatient hematology-oncology practices that meet the highest standards for quality cancer care. In addition to the clinic located on Rudasill Road in Tucson, other Arizona Oncology clinics currently pursuing QOPI certification include the Biltmore Cancer Center in Phoenix and the Saguaro Cancer Center in Glendale.
"This is a great honor to be among the elite few in Arizona to receive this prestigious certification from ASCO and QOPI. The certification underscores our commitment to provide the best care possible to our patients," said Rachel Swart, MD, hematologist and medical oncologist at the northwest clinic in Tucson.
"Cancer patients and their families should expect nothing less than accountability and the highest standards from their cancer care providers," said Allen S. Lichter, MD, CEO of ASCO and President of the QOPI Certification Program. "QOPI participation reflects a commitment to quality of care that leads to fundamental changes in the clinical practice of oncology. Oncology practices that commit to quality and safety are those that provide the most optimal cancer care. The Certification Program helps practices determine whether they are providing the best treatment and care possible to their patients, and demonstrates a commitment to excellence and ongoing quality improvement in the hematology-oncology outpatient practice."
The QOPI Certification Program (QCP) was launched in January 2010. Oncologists can achieve certification by demonstrating practice consistent with the highest standards of care.
To learn more about Arizona Oncology and the QOPI Certification, visit www.ArizonaOncology.com or call 1.855.784.HOPE (4673).
Stephen Cohen and Russ Hall, SIOR, GSCS, Industrial Specialists with Cushman & Wakefield | Picor of Tucson represented the buyer and Mike Sandahl, Wyatt Campbell and Buzz Isaacson of CBRE of Tucson represented the seller.
To learn more Cohen can be reached at 520.546.2750 and Hall should be called at 520.546.2747. Sandahl should be reached at 520.323.5115, Isaacson can be contacted at 520.323.5151 and Campbell is at 520.323.5173.