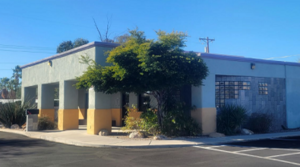 TUCSON, ARIZONA (November 9, 2022) Norma Jane Properties, LLC purchased the 2,884-square-foot medical office building at 5602 E. 5th Street for $517,000 ($179 PSF). The property is located east of Craycroft on 5th Street on a 14,036-square-foot lot.
The transaction closed October 25, 2022.
The seller was an owner / user dba 5th Street Chiropratic, Scott Bentson, DC, and buyer will be the same dba Smith Performance Center: Physical Therapy, a husband and wife team, Craig and Sarah Smith, PT therapists.
Gordon Wagner with NAI Horizon represented the seller, Bentson Investments LLC; Colette Barajas with Centra Realty represented the Buyer in this transaction.
For more information, Wagner can be contacted at 520.326.2200 and Barajas can be reached at 520.882.0767.
To learn more, see RED Comp #10258.