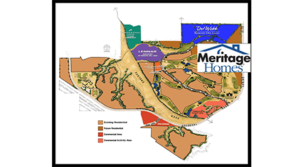 TUCSON, Arizona — Meritage Homes of Arizona, Inc. purchased (71) 45' X 120' and (42) 50' X 120' platted and engineered lots at Rancho del Lago in Vail from Fidelity National Title Agency under Trust No. 10,756 and Vail Valley Joint Venture (Bill Estes III, manager) for a price of $3,177,000 ($28,115 per lot)
The sale closed on April 13, 2017. The Seller was represented by Randy Emerson of GRE Partners, LLC. Will White and John Carroll of Land Advisors Organization in Tucson represented the buyer.
White remarked, "It is a great purchase. Vail has always been a strong performing submarket. Now with more amenities and an improving market, we have seen strong sales and price appreciation in the past 12 months. Rancho Del Lago has a successful history and this is a great position for the coming years."
"We are seeing strong demand for lots in the southeast I-10 corridor/ Vail area of Tucson from homebuilders. Vail School district and close proximity to employment are the driving factors. At the same time that the market is improving, this area might be one of the most constrained on future lot inventory. That is why you are seeing most of the entitled lot deals picked up quickly and the land prices continue to rise."
"2017 has already seen some of the best 'shovel ready' lot positions acquired and there are several more deals in the works. The race is on and we expect it to be extremely active in Tucson," White stated.
Meritage will be joining Del Webb, Pepper Viner Homes and Pulte Homes at this most remarkable golf course community at the foot of the Rincon Mountains in the southeast submarket of Tucson.
For additional information, White and Carroll can be contacted at 520.514.7454 and Emerson should be reached at 520.396.4812.
To learn more, see RED Comp 4732.