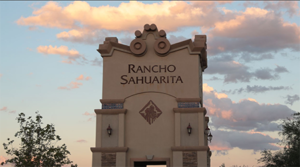 SAHUARITA, ARIZONA – The first phases of Entrada Del Rio subdivision in the Master Planned Community of Rancho Sahuarita has all its lots either sold or under contract. Meritage Homes has committed to 112 SFR lots and recently took down 41 lots.
Meritage Homes closed on 21 additional new home lots in Entrada Del Rio in Rancho Sahuarita for $1.115 million ($53,095 per lot) in June and 20 more lots in July for $1,020,225 ($51,011 per lot), continuing to offer homebuyers stunning new home options in the master planned community's newest neighborhood. The lots are located just north of the homes currently being built by Lennar.
Another 20 lots are scheduled for acquisition on August 18th and 20 more lots by year end.
Since opening for presales in December 2019, the builder has had strong sales in the community, with the first homeowners moving in in June. Meritage Homes will sell the additional homes from their existing model and Sales Center located at 903 W. Calle Tolima.
Meritage Homes currently offers five different floorplans, ranging from 1,912- to 2,920-square-feet. The floorplans include four- and five-bedroom homes in both single- and two-story layouts. The open concept floorplans feature expansive kitchens, with covered porches, first floor dens and more. Meritage Homes feature ENERGY STAR certified appliances, advanced thermostats, Fresh Air Management Systems and other energy-efficient appliances and technologies for families to enjoy.
"With four homebuilders at Entrada Del Rio: Richmond, Lennar, KB Homes and Meritage, July was a phenomenal month for home sales," said Diana Dessy, Director of Land Assets for Rancho Sahuarita Management Company. "There were 41 homes sold in Entrada Del Rio between June and July. With final lots sold or contracted for here we will be moving south to plat several hundred more lots in regions 6 and 7 to fill our builders' pipeline."
Entrada Del Rio will comprise over 500 new homes in Rancho Sahuarita when complete, with ease of access in and out of the community, close proximity to local schools, and the Parque Del Rio neighborhood amenities and the Rancho Sahuarita Marketplace nearby.
The commercial component, Rancho Sahuarita Marketplace is also going strong. Arby's recently purchased here for their second restaurant in Sahuarita, and Northwest Hospital, under construction, is scheduled to open this Fall.
More information about the line of Meritage Homes available in Entrada Del Rio can be found online
For more information, Dessy can be reached at 520.275.7235.
To learn more, see RED Comp #7854 and #7982.