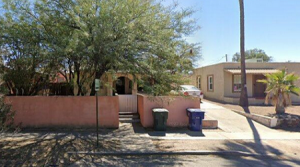 TUCSON, ARIZONA, April 27, 2023 – Mesa-based Santa Rita Village LLC (Ray Dunigan, manager, Tucson Asset Management AD, LLC) purchased two Tucson multifamily properties for $2,275,000.
The two properties included 10th Street Apartments, a 5,750-square-foot investment property at 1137-1153 E. 10th St. in Tucson sold for $1.175 million ($130,555 per unit) for the 9-unit apartment property, built in 1940.
Santa Rita Apartments, a 5,117-square-foot investment property at Santa Rita Apartments, 1142 E. 9th St., 127 N. Santa Rita Ave., & 135-147 N. Santa Rita Ave. in Tucson sold for $1.1 million ($167,857 per unit), a 7-unit apartment property, built in 1935.
Both properties' sellers are John R. Hughes and L. Thompson Hughes, with both closing on April 17, 2023.
Allan Mendelsberg and Joey Martinez, Principals and Multifamily Specialists with Cushman & Wakefield | PICOR represented both parties in these transactions.
Mendelsberg and Martinez are reporting Tucson's multifamily investment market has shifted gears as Q1 2023 concluded, experiencing higher transaction volume in the 10 to 40-unit space. While economic headwinds have impacted many markets, people are still eager to purchase apartments despite a more conservative outlook with pricing. Financing has also become a significant obstacle in the transaction process during the first quarter of this year. New pipeline developments are being constructed in Marana, Vail, and other prime fill-in locations. In addition, there is limited inventory for C-class properties across the Tucson market which will keep its demand high as we enter Q2. Overall, rents will likely flatline this year due to the vacancies and slower lease-up. As cap rates continue to increase, cash buyers are likely to become competitive again, as they have been priced out of the market in recent years due to the low cost of debt.
(Source: PICOR Marketbeat Multifamily, Q1, 2023)
For more information, Mendelsberg can be reached at 520.546.2721, and Martinez is at 520.546.2730.
To learn more, subscribers can see Comp #10629 and #10632.