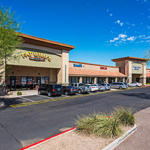 Cushman & Wakefield Negotiates Sale of Greenfield Gateway
PHOENIX, Arizona – Cushman & Wakefield completed the sale of Greenfield Gateway, located at 1728 and 1762 S. Greenfield Road in Mesa, Ariz. Phoenix-based HH-Greenfield Gateway, LLC, an entity formed by Hinkson Company, purchased the property from Greenfield Gateway Retail Investments, LLC for $6.7 million.
Cushman & Wakefield Senior Director Chris Hollenbeck represented both the buyer and seller in the transaction.
Shadow anchored by Walmart, Greenfield Gateway is a 67,709-square-foot (sf) retail strip center and spans 10.37-acres. Built in 2005, the property is located directly off of the US-60 and is currently 87% occupied by a variety of tenants including Lina's Home Furnishing, AT&T, Sally Beauty Supply and Wendy's.
"This was a great opportunity for both the seller and buyer. The seller worked to reposition the property over the past couple years by adding large monument signs on the freeway, as well as adding new tenants to the center. The new owners will come in and complete the process by adding value through their local expertise here in the valley," says Chis Hollenbeck.
According to Cushman & Wakefield research, the Metro Phoenix retail market continued to experience positive occupancy growth and absorbed more than 370,000 sf during the first quarter of 2018. The Southeast Valley posted one of the largest gains of positive absorption, absorbing more than 154,000-sqaure-feet.