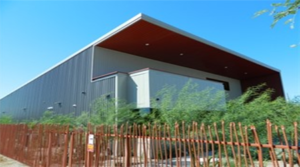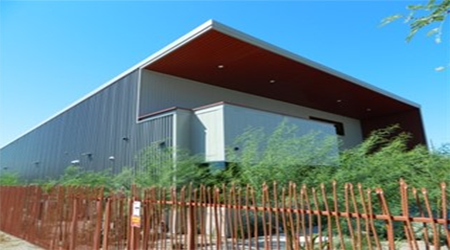 Mixed warehouse – flex office space maximizes metal
TUCSON, AZ — Dean Cotlow, president and founder of Cotlow Co., a commercial real estate developer in Tucson, Ariz., purchased a 15,269-square-foot infill lot in 2015 in Tucson for one his company's buildings. He called its location a "little corner on a major corridor," and at the time Cotlow had real reservations about what he could do with it. Today, he says his company's new office building there has, "gone beyond expectations with the way it came out," and the only problem with it is, "the amount of tours, [since] people have requested to see it." Cotlow's new office building is a mixed warehouse with flex office space. It has a 800-squarefoot glass office with 4,400 square feet of shop space, a 30-foot front elevation height, an observation deck, has 100 percent LED lights for interior and exterior, is rainwater recovery capable and is setup for a 100 percent solar power system.
Not a Basic Box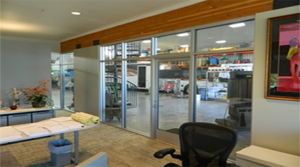 The building needed a style that fit the location's industrial area, but didn't look like a basic box. Metal's low-maintenance costs and aesthetics helped to do this while blending Cotlow's enjoyment of industrial art and sculpture. Metal was used for the main structure as well as the majority of its finishes. Metal was used throughout the warehouse space's interior for both its look and the durability, and even an exposed facing, particularly as many of the rack systems are designed to be moved around the shop during projects.
This single-slope pre-engineered metal building from Nucor Building Systems, Waterloo, Ind., has 14-foot at-eave canopy extension plus 14-foot girt extension on the west-facing endwall colored all gray prime. The roof is Waterloo, Ind.-based Nucor Building Systems' 24-gauge CFR Galvalume metal roof panels with a 360-degree seam to simplify the installation of future solar panels. The interior warehouse space has Houston-based MBCI's 26-gauge PBU metal wall panels in Ash Gray to full height. The east endwall and south low sidewall have MBCI's 26-gauge 7.2 Panels in Charcoal Gray. The exterior face of the west endwall and northern high sidewall is 26-gauge PBU metal wall panels in Ash Gray with liner and soffit in 26-gauge PBU metal wall panels in Rustic Red. The conventional construction single-story office with balcony features MBCI's 24-gauge Artisan 12-inch-wide, concealed fastener, flat-wall, exterior metal panel in smooth Ash Gray installed over studs.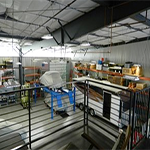 The building has a mezzanine above an exterior balcony. The office space extends outside the main metal building, underneath the at-eave extension. The balcony includes a rustic red handrail reveal and allows for views of the Catalina Mountain Range. The girt wall extension on the west side both shields the main shop doors from the sun and creates a visual separation from the industrial area surrounding the corner lot development. The southern wall includes a Light Transmitting Panel band from MBCI in 7.2 panel profile to match the wall at the eave to allow for additional light into the warehouse space.
The building's metal installer, Steadfast Structures Inc., Tucson, worked with the architect and owner to translate the design concept into a feasible pre-engineered metal building project. We, "Demonstrated the metal building insulation package's envelope compliance to satisfy the permitting authorities, with the help of supplier, Therm-All Inc., [North Olmsted, Ohio]," says Elizabeth Tipton, operations manager, at Steadfast Structures. "The original color pallet for the building was all shades of white and gray. Our foreman was able to convince the owner to take a risk and use rustic red to highlight the 14- foot cantilevered soffit, wing wall and related trims."
Cotlow is very happy with his finished building and attributes much of its success to metal. "With metal, we built it faster," he says. "It has a clear span, no columns and no need for a masonry subcontractor. The building proves you can do anything you want with metal. This was a remarkable example of how processes and people can change for the positive, and what a difference it can make in the community and a direct benefit for more jobs in our community."
Architect: Rob Paulus Architects, Tucson, www. robpaulus.com
General contractor: Cotlow Co., Tucson, www.cotlow.com
Metal installer: Steadfast Structures Inc., Tucson, www.steadfaststructures.com
Insulation: Therm-All Inc., North Olmsted, Ohio, www.therm-all.com
Metal roof and building: Nucor Building Systems, Waterloo, Ind., www.nucorbuildingsystems.com
Metal wall panels: MBCI, Houston, www.mbci.com
For full article Click Here