Metro Phoenix Office Market Posts 14-Year Largest Negative Net Absorption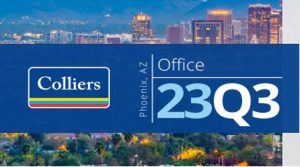 Large Tenant Move-Outs Overwhelm Market as Leases Expire Following Pandemic
PHOENIX, Nov. 15, 2023 – Third quarter brought the largest level of negative net absorption in 14 years to the Greater Phoenix office market, according to a report released by Colliers in Arizona. Multiple full-building vacancies impacted the market during third quarter, resulting in -1.16 million square feet of net absorption.
Third quarter, similar to first quarter 2023, brought multiple large move-outs in the office market. The sizable negative net absorption this quarter brought the year-to-date absorption to -1.56 million square feet. Six large tenants vacated space during the past three months, totaling 1.065 million square feet. Of those six tenants, only two of the businesses maintained a presence in the market. Those two downsized by more than 70 percent.
Leasing activity was relatively healthy during third quarter, with 35 new direct leases 10,000 square feet or larger signed. The average lease signed last quarter ranged from 2,500-6,000 square feet, which made it impossible for the market to overcome those larger move-outs. The largest lease of the quarter was a 70,347-square-foot sublease of space at 7350 N. Dobson Rd. by Open Network Exchange. The next largest lease was Dish Network's commitment for 58,697 square feet at Chandler Corporate Center I.
Direct vacancy in the office market rose during third quarter to 14.7 percent, marking an increase of 60 basis points quarter-over-quarter. Total available space rose 130 basis points year-over-year, marking the highest availability rate going back to fourth quarter 2013. For the first time since the start of the pandemic, the office market had a 64,919-square-foot decline in sublease availability. However, sublease space still equates to 4.5 percent of total existing inventory with 7.4 million square feet available for sublease. The market has 42 buildings that have more than 100,000 square feet or more available for direct lease with landlords, which totals 7.1 million square feet and makes up 30 percent of total direct vacancy.
Unlike other large cities around the country, Greater Phoenix office rental rates continue to show growth. On average, rental rates increased 2.16 percent year-over-year ending at $29.34 per square foot. Class A asset rental rates rose 2.5 percent compared to the same time a year ago, ending at $32.34 per square foot. The Camelback Corridor posted the highest rental rate increase, nearly five percent year-over-year and finishing the quarter at $40.03 per square foot.
Construction completions of new office buildings during third quarter totaled 318,264 square feet. Approximately 17.3 percent of this space was pre-leased. Tempe submarket delivered more than 80 percent of this new space. Two buildings in the Tempe submarket totaling 260,329 square feet were delivered 100 percent vacant. Currently there are 763,615 square feet under construction throughout the Valley with nearly 70 percent of the construction in three submarkets; Scottsdale Airpark, South Tempe/Ahwatukee and Tempe.
Third quarter was the strongest of the year for investment sales volume with $255 million in transactions. This brings year-to-date office sales volume to $666.7 million. Despite the improved quarter, sales vollume is down 63.2 percent compared to the same quarter last year and year-to-date volume is down 68 percent compared to the first three quarters of 2022. The market was fueled by acquisitions from Reliant Management purchasing five assets totaling $131 million. The properties were located throughout the market from Downtown to Scottsdale Airpark. The largest purchase was the company's acquisition of 3131 and 3133 E. Camelback Rd., a two-property office project totaling nearly 330,000 square feet.
The Greater Phoenix office market is now experiencing the impact of large move-outs and increases in vacancy that other national cities experienced more rapidly after the pandemic. This will continue, as the fourth quarter will bring another four single-tenant building move-outs. The market will experience continued new direct leasing activity as the city attracts businesses and existing ones grow, but that tenancy will not be able to keep pace with the large single-tenant buildings that sit vacant. Landlords will be encouraged to build out speculative suites to attract tenants, especially in the most highly desirable submarkets.
See full report here: Arizona Office Report Q3 2023 Final