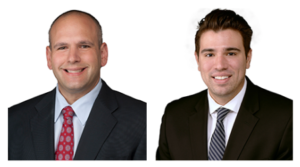 PHOENIX, Arizona – Cushman & Wakefield announced that Michael Crystal has rejoined the firm's Phoenix office as a Managing Director. With him, he brings Joe Vale as a Senior Associate and Tarryn Fountain as a Brokerage Coordinator.
Michael and Joe join us from Newmark Knight Frank and bring a combined 17 years of commercial real estate and market experience to Cushman & Wakefield. The team specializes in landlord and tenant representation to provide strategic real estate solutions to clients throughout Metro Phoenix.
"Michael and Joe have established a reputation for extraordinary dedication to their clients and for their extensive market knowledge. As creative space masterminds, they have successfully converted traditional – and often obsolete – space into modern, transformative and versatile space for today's modern tenants," said Bryon Carney, Managing Principal.
Averaging 100 transactions per year, Michael and Joe focus on leasing up and collaborating with local capital markets brokers on dispositions of office assets around Metro Phoenix. Throughout their career, the two-man team has participated in some of the area's most prominent assignments including 111 W. Monroe, Luhrs Tower, Camelback Arboleda, 3030 N. Central, 3200 N. Central, Tempe City Center, 300 W. Clarendon, 2828 N. Central and Clocktower Corporate Centre.
"We have been very fortunate to work with great clients and projects across the Valley for the past 17 years. Joe and I are excited about our next phase in our career with Cushman & Wakefield and the many services and offerings the company brings to better serve us and our clients," said Crystal.