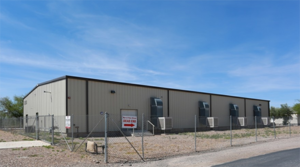 TUCSON, Arizona — Modern Lift, Inc. (Bill and Mary Riley, owners) purchased an industrial building with yard at 6080 S Masterson Avenue in Tucson for $343,000 ($42 PSF).  Purchased for expansion of the business, the company is currently located at 3175 E 46th Street in Tucson.
Modern Lift Inc offers sales, rental and repair of material handling equipment. A family owned business serving Tucson and surrounding areas since 1991, the company provides forklifts, golf carts, trucks and other various types of equipment requirements to handle any job.
Warehouses, shipping services, grocery stores and many other types of businesses depend on Modern Lift's material handling services.
The new location is at the northwest corner of Bilby and Masterson, near Drexel and Palo Verde Roads.  The 8,125-square-feet building, built in 2009, is double their current warehouse space and a 1,000-square-foot office. The property has concrete loading and parking area in the front with a secure fenced yard on .80 acres.
The property was sold in an REO sale by Wells Fargo.
Pat Welchert of Cushman & Wakefield | Picor in Tucson represented both parties in the transaction.
For more information, Welchert can be reached at 520.546.2748.
To learn more, see RED Comp #4634.