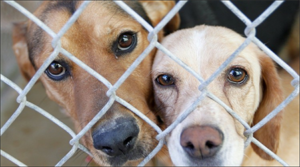 Shelter offering weekly "forecasted" sale
PIMA COUNTY –Pima Animal Care Center is loving the refreshing rain the monsoons bring, so each week during July will feature a different "forecasted" sale. Every Sunday, that week's "forecasted" adoption special will be posted on PACC's social media pages on Facebook, Twitter and Instagram.
The summer months are very busy for the shelter, with intakes reaching as high as 130 pets a day. There are currently 387 number of puppies and dogs and 291 number of kittens and cats at the shelter. Outside the shelter, there are 624 cats and kittens and 314 dogs and puppies in foster care. That's a total of 1,616 pets in need of homes.
For those who can't adopt, fosters are always needed. The foster signups begin online. People can take a pet home for a few hours, a few days, or even a few months. Any amount of time spent outside the shelter is good for their mental health.
PACC is located at 4000 N. Silverbell Rd. A $19 licensing fee will apply to dogs. All pets adopted from PACC will come spayed or neutered, with age-appropriate vaccinations, a microchip and a free vet visit. PACC's normal business hours are Monday through Friday, noon-7 p.m. and 10 a.m. to 5 p.m. on the weekends.