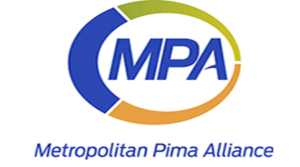 Local projects and programs demonstrating exemplary collaboration to be recognized
TUCSON, Arizona - On Friday, Nov.1, 2019, the Metropolitan Pima Alliance (MPA) will hold its 15th Annual Common Ground Awards Ceremony at the JW Marriott Starr Pass Resort. Presented for the third year in a row by Title Sponsor Barker Contracting, Inc., the event honors community leaders, projects and programs that have made significant contributions toward bridging divides and finding solutions to complex challenges in creative ways. Since the first ceremony in 2003, over 280 projects have been recognized that embody MPA's mission to create a prosperous community by promoting collaborative real estate development policies, building partnerships and finding common ground.
Brian Barker, president of Barker Contracting, said, "We are happy to continue our support because the whole common ground theme matches perfectly with our organization and how we do business. We know that MPA's work is very important to our industry."
Twenty finalists have been identified through a multistep process. All finalists will be interviewed by a panel of MPA members and then scored against weighted criteria including collaboration quality, impact and complexity. The finalists with the top 10 scores will be awarded a one of a kind Tom Philabaum glass creation at the ceremony.
The 2019 Common Ground Award Finalist Projects and Programs are:
Arizona Drought Contingency Plan Process
Benedictine Monastery Development
City of Tucson Planning and Development Services Department Tech Tools
DM50 Military Spouse Employment Initiative
Doubletree by Hilton at the Tucson Convention Center
H.S. Lopez Family Foundation Center for Opportunity
The Monier Building
NOVA Home Loans Arizona Bowl
Pima County/City of Tucson Opportunity Zones
Pima JTED Innovative Learning Campus
Pima Medical Institute Consolidated Campus
Project Ina Business Support Program
Reactivation of Jacome Plaza
Rule B Fix Legislation (S.B. 1248)
Saguaro Surgical Expansion in Harold Bell Wright Estates
Santa Cruz River Heritage Project
The Union on 6th
Town of Marana Sign Code Update
Twin Peaks/Blue Bonnet Sewer Project
Valencia/Kolb Road Intersection Improvement Project
Sponsorship packages and tickets are now available at
www.mpaaz.org