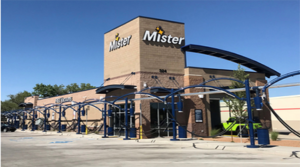 Newest Mr. Car Wash location in Tucson is first in market to be custom designed and built
Tucson, Ariz.  – Tucson-based, Mister Car Wash sold its newest and 15th location in Southern Arizona, at 2975 S. Kino Parkway in Tucson to California investor, Bolton Properties LLC, for $3.8 million ($613 PSF). This newest location in Southern Arizona opened this past November and sold in a sale leaseback agreement.
The 6,205-square-foot car wash, built by MW Morrissey Construction, features first-in-the-industry technological advancements that enhance the washing process during the short time that vehicles spend in the tunnel.
With nearly 8,000 employees nationwide, Mister Car Wash moved its corporate headquarters to Tucson in 1996 and currently owns and operates 321 car wash and 32 express lube locations in 21 states. While a majority of the stores are acquisitions, the new Kino Parkway facility is the first in the local market to be custom designed and built.
"Tucson is our home, and we're excited to be expanding our operations in the very community where we live, work, and play," said Megan Everett, director of marketing for Mister Car Wash said in the company's grand opening statement. "It's such a privilege to have helped this community shine for the past 23 years and introducing the company's latest innovations right here at home means a great deal to us," she continued.
Hanley Investment Real Estate Advisors of Corona Del Mar, CA negotiated the transaction. The firm specializes in selling retail investment properties.
"Single-tenant net-leased carwashes have emerged as a viable alternative in the net-lease sector with strong investment from both institutions and private investors due to their internet resistance and excellent unit level financials," said Vice President Austin Blodgett with Hanley Investment Group.
Since January 2018, Hanley Investment Group has completed the sale of over $36 million in single-tenant carwash properties across the country and has another $50 million currently listed or in escrow, the release noted in CarWash.com
Blodgett notes that there are more "do-it-for-me" customers going to carwashes and less "do-it-yourself" customers washing their own cars at home, according to Carwash.com.
"The growing express carwash model also provides a lower overhead per location, and the unlimited wash monthly subscription programs are helping to fuel sales," Blodgett added. "We expect to see the cap rates remain steady within this sector, and the number of sales to rapidly increase over the next 12 months."
For more information, Blodgett can be reached at 844.585.7624.
To learn more, subscribers can go to RED Comp #7584.