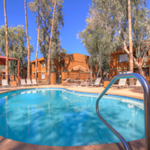 Multifamily continues to be a hot item for investors in Q2 2015 for Tucson and Phoenix. In metro Tucson, from March 1st to June 17th, 3,221-units were sold for an aggregate total of $129.41 million. The average price per unit in Q2 was $50,060 per door and a median price per unit of $39,423, according to data collected by the Real Estate Daily News and RED Comps.
VILLA DE LA PAZ APARTMENTS SELL FOR $4.9 MILLION
PHOENIX, AZ – Cushman & Wakefield of Arizona, Inc. completed the $4.9 million ($47,573 per door) sale of Villa De La Paz Apartments, 6041 W. Thomas Road in Phoenix.  The eight-building apartment complex was constructed in 1983 and contains 103-units totaling 82,701-square-feet ($59.25 PSF). The property currently boasts 90 percent occupancy.
Maryland Gardens Investors LLC of Phoenix purchased the property from Superior Estates LLC of Tumon, Guam.
"The buyer liked the characteristics of the property, and it fit within their 1031 requirement," said Brett Polachek, Director in the Multifamily Advisory Group with Cushman & Wakefield. A 1031 exchange allows an investor to sell a property, reinvent the proceeds in a new property, and defer all capital gain taxes.
Polachek and Jim Crews of Cushman & Wakefield successfully marketed the property for sale and represented the seller, Superior Estates. The buyer was represented by Tony Werstler of Solutions Real Estate.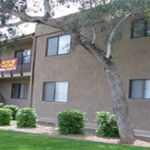 CASA MARIN APARTMENTS IN TUCSON SELL FOR $2.13 MILLION
TUCSON, AZ – Casa Marin Apartments recently sold for $2.125 million ($29,514 per door) to an investor from Reno, NV, Chrisi Gardens, LLC, (Chris Ioannakis, manager).
The seller, Casa Marin, LLC of Mill Valley, CA (Peter Sorensen, manager) and the investor, were represented by Hamid Panahi of Marcus & Millichap in Phoenix.
The 72-unit complex was built in 1981 and is located at 438 East Prince Road in Tucson at the southwest corner of Prince Road and Los Altos in Tucson.
For additional information see RED Comp #2963.
FRESNO APARTMENTS IN CHANDLER SELL FOR $732K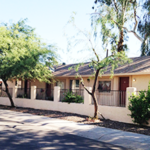 PHOENIX, AZ – Fresno Apartments recently sold for $732,000 ($36,000 per door) to Epicenter Holdings, LLC. The seller, Mehmed Kozlika, was represented by Chip Kloppenburg of Sperry Van Ness, LLC.  The buyer was represented by Cass Stephens of S.J. Fowler.
Fresno Apartments is located at 275 N. Fresno in Chandler, AZ., with 20-units, and located only minutes east of N. Arizona Ave, just north of Chandler Blvd.
"This sale of Fresno Apartments is a key example of when the deal closes and both the seller and the buyer walk away happy," Kloppenburg stated.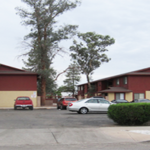 MOHAVE GARDENS APARTMENTS IN TUCSON SELL FOR $650K
TUCSON, AZ – Mohave Apartments recently sold for $650,000 ($27,083 per door) to a Beverly Hills investor, Richard Neal Mills Trust. The seller, Ricardo and Sheryl Robinovich, also of California, and investors were represented by Allan Mendelsberg of Cushman & Wakefield | Picor in Tucson.
Mohave Apartments has a mixture of one- and two-bedrooms and a total of 24-units. Located at 126 E Mohave Road in Tucson, the property is located just east of Stone Avenue.
"The property sold stabilized with only one or two vacancies in this all cash transaction," Mendelsberg said.
For additional information see RED Comp #2995.