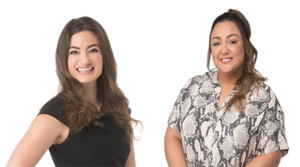 PHOENIX, ARIZONA – NAI Horizon is pleased to announce it has promoted two industry professionals within its marketing department, Meg Ohanesian Zemlicka to Director of Marketing and Sabrina Drummond to Marketing Manager.
Zemlicka, a marketing and design expert, was recently hired as NAI Horizon's Marketing Manager. Drummond recently joined the team as Marketing Coordinator. These promotions are part of NAI's ongoing marketing and communications strategy to elevate NAI's brand and the marketing services provided to their agents and clients.
"NAI was fortunate to add Meg and Sabrina to our team earlier this year," said Terry Martin-Denning, NAI Horizon CEO/Designated Broker. "These promotions recognize their immediate contributions and understanding of our overall marketing vision. I am excited to see what the future holds."
Zemlicka joined NAI Horizon after holding the Director of Marketing and Member Services role with Arizona Association of Economic Development (AAED). She continues to be an active member of AAED. Prior to joining AAED she was a graphic designer at Northern Arizona University.
Drummond previously worked at Goldwater Bank, NA, in its Depository and Mortgage Division. She was responsible for marketing, corporate communications, onboarding and training, project management and website design on a corporate, branch and individual level.
PHOTO Courtesy of NAI Horizon: Meg Ohanesian Zemlicka (left) and Sabrina Drummond (right)