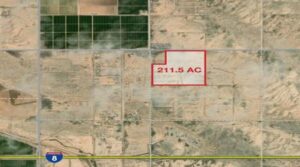 PHOENIX, ARIZONA – NAI Horizon facilitated the $2.53 million sale of a swath of land in Casa Grande, Arizona, that had been listed with NAI Horizon 14 years ago as the proposed Morado Hills Industrial Park.
The property sits +/-1.5 miles directly north of and across Interstate 8 from the 2,360-acre Attesa Motorsports Racetrack that is currently under construction.
Senior Vice President John Filli – an industrial, land, and investments sales specialist with NAI Horizon – represented the seller, Talon Mountain, LLC, a Nevada limited liability company, in the disposition of 211.5 acres (9.2 million SF) at the SEC of the intersection of Montgomery Road and Selma Highway in Casa Grande.
"In looking back over the more than 14 years that I have had the listing assignment for the sale or lease of the property, I have to admit that there were a few times when I thought about relinquishing the listing. As it turns out, I never did. Now here we are today with this disposition of 211 acres."
At the beginning of the 14-year listing period, Filli opened escrow with the Arizona State Prison System. However, escrow was soon canceled due to resistance to the proposed use received from the Town of Casa Grande Public School System.
On June 15, 2011, Filli completed a 40-year ground lease between the owner of Morado Hills and One Energy Renewables of Seattle. The lease remained in place for a 1½ years when it was canceled for reasons related to the economy.
Lisa Hauger with Sun Commercial Real Estate Inc. provided the listing referral to Filli. Kavitha Pindi with DHS Realty Texas was the procuring agent. The buyer was Magnum Estates LLC, a Texas limited liability company.