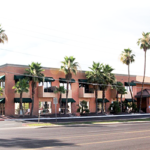 PHOENIX, ARIZONA -- The NAI Horizon investment sales team of Senior Vice Presidents Barbara Lloyd and Lane Neville represented the buyer in the $11.4 million ($110 PSF) acquisition of Pointe Business Plaza, 7227 N. 16th St., in Phoenix. Bogle Family Realty, LLLP of Phoenix was the buyer.
The 103,672-square-foot, multi-tenant office building is located less than one mile from the state Route 51 and minutes from downtown Phoenix and the Biltmore area. The property is parked at 5:1000 and can accommodate large and small office tenants. NAI Horizon will handle the leasing.
"Bogle Family Realty owns other property in the area and we saw this as an opportunity for them to increase their presence in the desirable Piestewa Peak office submarket," Lloyd said.
The property was 90 percent occupied at the time of the sale. Tenants include Rehab Without Walls, Renters Warehouse, Feeding Matters, Kland Civil Engineering, Arrowhead Holding Management Company, and the World Egg Bank.
"Our family has been a resident of the Piestewa Peak area, both professionally and personally, for many years. This was a terrific opportunity," said Michael Bogle, Managing Partner of Bogle Family Realty.
"We are excited to have acquired a prime property such as Pointe Business Plaza, and aligned ourselves with such quality tenants. This acquisition complements our adjoining building, The Peak, and together we now cover a larger spectrum of the office leasing market along north 16th Street," Bogle added.
The seller, the Burton Family Foundation of Phoenix, was represented by Mike Coover and Eric Wichterman of Cushman & Wakefield.