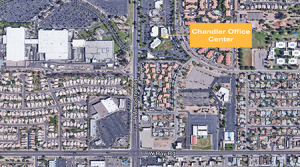 PHOENIX, ARIZ. – NAI Horizon represented the tenant, a Florida-based agency that provides autism therapy, in a long-term lease at 1347 N. Alma School Road in Chandler, Arizona.
NAI Horizon Senior Vice President Laurel Lewis represented InBloom Autism Services of Ft. Lauderdale, Florida, in the lease for 9,643 SF at Chandler Office Center.
The Chandler location is the second in the Valley for InBloom. It provides Applied Behavior Analysis (ABA) therapy and diagnostic evaluations to identify Autism Spectrum Disorder (ASD) in young children.
"It's satisfying negotiating on behalf of companies like InBloom Autism Services that are working hard to create a better environment and clinical expertise for people in need of behavioral health services," Lewis said. "Their work with children is especially important."
The landlord, Jutland 4141 Investments Ltd. dba Chandler Office Center of San Diego, was represented by Jamie Swirtz of CBRE.