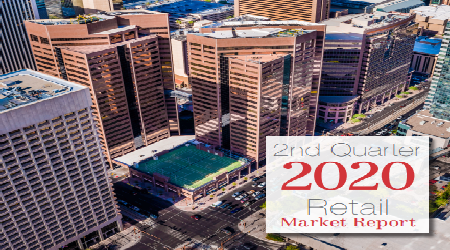 NAI Horizon reports, with the notion in mind that 70 percent of the U.S. economy is driven by consumer consumption – and there is no reason to believe it is much different in Arizona, let's take a look at the health of regional consumers in the Phoenix and Tucson metro markets by one basic metric– jobs. Phoenix (recent) unemployment rates:
March 5.5%
April 12.6% (Tucson 13.1%)
May 8.5% (Tucson 8.6%)
June figures were not available when this report was prepared yet more than 30,000 people in Arizona filed initial claims for unemployment insurance the week ending June 20, according to the Department of Economic Security. That was an increase of about 7,000 from the prior week. However, the state indicated that as many as 42,500 Arizona residents were added to the workforce in May as businesses reopened, which accounts for the decline in unemployment data from April to May.
It's worth noting that the April figure was the highest in the region since Arizona's State Employment and Unemployment office started tracking this data in 1976.
There's no question that the pandemic is making matters difficult for retailers right now, yet even so, there are a couple categories of retailers – not counting grocery stores — that are thriving in the current environment or at least have solid footings for going forward in a weakened economy.
First and foremost, are the Quick-Service Restaurants. As anyone driving around Phoenix and Tucson can attest, quick serve restaurant concepts have lines of cars in their drive-thru lanes morning, noon and night. Witness Starbucks, In-N-Out Burger, Chick-Fil-A and other eateries that are set up for ease of off premises consumption, and their businesses are booming.
And now there is a new addition coming to a place near you and likely very soon: Chipotlane, the drive-thru version of Chipotle Mexican Grill, are opening up across the country, including in Arizona. In the first quarter this year Chipotle opened 11 of its new Chipotlanes. It wasn't exactly a response to the Coronavirus, rather, an acceleration of a plan that CEO Brian Niccol hinted at when he was hired in 2018 as a strategy intended to drive the company's digital brand and grow sales.
In Arizona, a Chipotlane opened at 1655 W. Elliot Road in Tempe and there is a second store under construction at 1816 W. Bethany Home Road in Phoenix. More are likely to follow in the region.
The second retail group that is thriving this summer are value-based retailers. Companies like Marshall's, TJ Maxx, and Ross have made the most of the heavy foot traffic over the summer and haven't shown signs of slowing down in terms of new store expansion. This category of retailer has historically outperformed luxury brands during challenging economies.
MORE STORE CLOSINGS AND TROUBLE AHEAD
No one in retail real estate is wearing rose-colored sunglasses at the moment, and the worst may still be on the horizon. As noted in the data section of this report, second quarter numbers were not all that bad, but the statistics are just beginning to see the impact of failed or tired retail concepts, combined with the economic shutdown and the explosion of ecommerce and Omni-channel retail sales strategies and execution. Many of the stores that are failing, being shuttered or filing for bankruptcy were already on the ropes before 2020 even started, and the Corona Virus just accelerated their troubles.
MORE STORE CLOSINGS AND TROUBLE AHEAD CONT.
Two major U.S. brands announced store closings across the U.S. in the second quarter.
Bed Bath & Beyond (NASDAQ: BBBY) plans to close 200 stores (out of its 1,478 locations) over the next two years. The Union, NJ-based company made the announcement during its earnings statement for its fiscal first quarter. The report shows sales plummeted in the quarter due to the novel coronavirus pandemic and subsequent shutdowns affecting non-essential retailers. Bed, Bath & Beyond has 24 stores in Arizona. It is unknown which of these stores may be affected by company downsizing plans, and it could impact the firm's other brands: Buy Baby and Cost Plus World Market.
Phoenix-area malls have been slow to re-open and for those that have, some 60 to 80 percent of the stores within the malls have remained closed. The Metrocenter Mall on N. Metro Parkway in Phoenix, as many readers of this report already know, permanently closed on June 30th. Originally opened in 1973, the enclosed shopping mall in Northwest Phoenix once had a peak of 175 stores, a 12-screen movie theater and food court. A Walmart Supercenter and the Dillard's Clearance Center are scheduled to remain open.
Gyms, which were one of the few bright spots for retail landlords in recent years, are now potential liabilities. It's unclear what will become of the gyms such as EOS Fitness and Vasa Fitness, both concepts of which have larger floorplans than economy-minded gym operators, as well as expensive tenant improvement build outs.
2ND QUARTER DATA – DEVELOPMENT & ABSORPTION
Approximately 246,002 square feet of new retail inventory was delivered to the Phoenix market in the second quarter, and there is another 1.15 million square feet of retail product in the construction pipeline. The amount of new deliveries has been in decline, broadly speaking, since the first quarter of 2018 and this trend is likely to continue. For example, the last time more than 600,000 square feet of retail inventory was added was the fourth quarter of 2017.Net absorption was negative for the quarter – net negative -158,425 square feet, marking only the third quarter with negative net absorption since the first quarter of 2014.
VACANCY & RENTAL RATES
The vacancy rate in the second quarter bumped up slightly, from 7.0 percent at the end of the first quarter to 7.1 percent mid-year. The vacancy rate has been in this range since the beginning of 2018 yet we expect it to increase as we get deeper into the year, and into 2021.
Overall asking rental rates took a small hit in the second quarter, declining to $15.55-per-square-foot, from $15.90 at the end of the first quarter, yet they were in line with average asking rents a year ago when they were $15.56 a foot at mid-year 2019. Landlords are unlikely to ask for significant rent increases during renewal terms, and to the opposite, are working diligently to retain tenants as leases approach expiration dates.
SIGNIFICANT RETAIL TRANSACTIONS
A few of the largest sales transactions in the second quarter include the sale of Chandler Pavilion in Chandler for $10.515 million. The asset, with 147,897 square feet, was built in 1998. The multi-tenant retail property, Zocallo Plaza on North Scottsdale Road was sold in a 1031 Exchange for $5.78 million, or $339 a foot . Rounding out the transaction leader board was TFC Bank, with 5,000 square feet of space, garnering one of the highest sale on a per-foot basis, at $747.66 a foot. The sale was part of a bulk portfolio transaction.
Read full report here: 2Q 2020 Retail Report