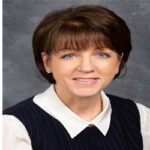 PHOENIX, ARIZ. (Jan. 17, 2023) – The Arizona Chapter of NAIOP, the Commercial Real Estate Development Association, elected officers and board members for 2023.
The 2023 Executive Committee of NAIOP Arizona includes Cathy Thuringer, Trammell Crow Company, Board Chair; John Orsak, Lincoln Property Company, Vice Chair; Derek Flottum, The Opus Group, Treasurer; Phil Breidenbach, Colliers International, Programs Chair; and Rusty Kennedy, Stream Realty, Immediate Past Chairman.
The new officers will lead the Arizona chapter, which as the fifth largest NAIOP chapter among 53 in the U.S. and Canada, surpassed 1,000 members in 2022.
"The growth of our chapter underscores its importance and relevance in Arizona's commercial real estate industry," said NAIOP Arizona President and CEO Suzanne Kinney. "I look forward to another year of working with our outstanding Board of Directors and to making our new office at the Biltmore Center a hub of activity and connection for the industry.
Jamie Godwin, President and CEO at Stevens-Leinweber Construction, Inc. and Laura Ortiz, President of Evergreen Development, begin their first three-year term on the Board of Directors in 2023.
Chelsea Porter of Renaissance Construction will serve a one-year term as Developing Leader Board Liaison. Continuing Board members for 2023 are Chris Anderson, Hines; Jenna Borcherding, VanTrust Real Estate, LLC; Chris Burson, Western Alliance Bank; Jeff Foster, Prologis; Jeff Moloznik, RED Development, LLC; Kate Morris, Transwestern; Michael Olsen, Globe Corporation; CJ Osbrink, Newmark; and Candace Rosauro, Layton Construction.
Three of NAIOP Arizona's long-time Board members rolled off at the end of 2022. Tom Jarvis, Willmeng, who has been instrumental in the success of premier events Night at the Fights and Best of NAIOP and was a founding member of the Arizona Chapter's Young Professionals Group (YPG) mentoring program; Danny Swancey, ViaWest Group, 2021 Chairman of the Board; and Jim Wentworth, Wentworth Property Company, 2020 Chairman of the Board.
"I am appreciative of our Board of Directors and outgoing Chairperson, Rusty Kennedy, for leading NAIOP Arizona in achieving the substantive goals set for the organization in 2022. I want to send a special thank you to all our corporate sponsors, event sponsors, and our membership for their support of NAIOP Arizona despite the specter of economic headwinds," Thuringer said. "As we head into 2023, I look forward to working with the Board and NAIOP Arizona staff to build on the organization's 2022 achievements as we continue our focus on member services, public policy, educational programs, enhancing Developing Leaders, events, and furthering our diversity, equity and inclusion initiatives."