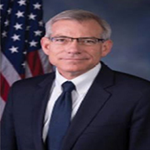 PHOENIX, ARIZONA – U.S. Congressman David Schweikert will tackle a variety of issues as NAIOP Arizona presents a special event as part of its Market Leaders series.Rep. Schweikert, R-Ariz., serving his fourth term in the U.S. Congress, will speak at the Biltmore Center Conference Room, Suite 180, 2398 E. Camelback Rd., on Friday, March 9. The event begins at 11:30 a.m. with networking and lunch.
Rep. Schweikert holds a seat on the Ways and Means Committee, having previously served on the Financial Services Committee. He is also the Republican Co-Chair of the House Blockchain Caucus.
Topics scheduled to be discussed include the new tax plan, infrastructure funding, capital markets regulations, and technology funding (AI, autonomous vehicles, cybersecurity). Rep. Schweikert represents Arizona's 6th District.
NAIOP, a 19,000+ member organization in North America, advocates responsible commercial real estate development and advocates for effective public policy. It is the leading organization for developers, owners and related professionals in office, industrial, retail and mixed-use real estate. NAIOP provides unparalleled industry networking and education, and advocates for effective legislation on behalf of our members.
Please RSVP to rsvp@naiopaz.org by Monday, March 5.