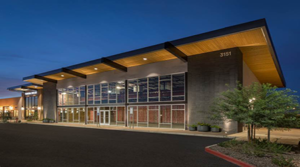 PHOENIX, Arizona –The Sicilian Butcher, the wildly popular North Phoenix restaurant, is expanding its footprint with a new, flagship location in the heart of the Southeast Valley at Chandler Viridian PRIMEGATE @ Fashion Center. Located at 3151 West Frye Road, the restaurant will occupy a 4,600-square-foot building with an immense outdoor dining area as well. The modern-casual restaurant from the Maggiore Restaurant Group (Tomaso's, Tomaso's When in Rome & Hash Kitchen) is the brain-child of Joey Maggiore and his wife Cristina, and it puts a uniquely modern twist on old world traditions. It specializes in a build-your-own meal experience with craft meatballs, freshly made in-house pastas, and charcuterie boards at the heart of the adventure. The Sicilian Butcher will also provide to-go services along with a marketplace and large indoor-outdoor social scene serving classic Italian wines. The market area of the restaurant at PRIMEGATE also will be the first location to feature an extravagant, new, signature build-your-own Cannoli Bar.
The bold, progressive architecture of the newly completed building pairs perfectly with Maggiore's modern concept. Roll-up doors that open onto the massive outdoor dining and lounge areas with art and water features will create a truly lively energy.
"In addition to the incredible real estate, what really drew me to PRIMEGATE over other possibilities was that the architecture and setting was unlike anything else we'd seen. I thought about how positively that would reflect our brand as well," said Maggiore. "This is a rare project where we have the chance to create a banner location that will generate huge buzz in the community. With our next Sicilian Butcher located at PRIMEGATE, we will be able to provide a top-notch neighborhood experience for our customers whether they are grabbing lunching, dining in, taking out, or just chilling out."
The convenient and easily accessible, high-end regional destination has direct exposure to the Loops 101 and 202 freeway interchanges. Together with its hard-corner location, PRIMEGATE creates the opportunity for unparalleled brand awareness for its tenants.
PRIMEGATE is located at the southwest corner of Frye and Price (Loop 101) roads at the entrance to Chandler Fashion Center. PRIMEGATE is the 24,000-square-foot dining and shopping venue of Chandler Viridian, a 25-acre mixed-use project with Class-A office, luxury apartments and hospitality, all anchored by Chandler Fashion Center and the newly remodeled Harkins Theaters Fashion 20 with CINÉ-1 experience. Costco, Super Target and the new Chandler Museum are also adjacent anchors.
Plans are for a late 2018 opening of The Sicilian Butcher.
"Having a well-regarded, seasoned restaurant operator like the Maggiore Group quickly jump on board with a Sicilian Butcher, endorses our larger idea of providing fresher, more inspired offerings in a premier setting as alternatives to the older, more commonplace choices that have dominated this trade area's landscape for so long," said Peter Nelson, president of WINLEE. "In addition to its superb surroundings, PRIMEGATE still offers plentiful, convenient parking and access, is central to dense employment and residential, and is located on the corner of one of the busiest intersections and freeways in the Valley; it has the best of everything. Given that, we look forward to bringing along additional energized brands that will complement the tenant mix."
Carol Schillne and Kerry Linthicum with CBRE's Phoenix office represented the landlord, WINLEE Development, the commercial real estate arm of Phoenix-based Winfield Lee Investments. Max Bippus, also with CBRE, represented the tenant in the transaction.