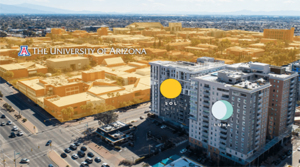 TUCSON, Arizona -- Nelson Partners, a real estate investment firm that sponsors Delaware statutory trust and tenant-in-common 1031 exchange offerings, has purchased Sol y Luna, a 14-story, 977-bed student housing property located at 1020 N Tyndall (Sol) and 1031 N Park Avenue (Luna) in Tucson, adjacent to the University of Arizona, for nearly $200 million ($570,800 per unit /  $198,850 per bed)
Built in 2013 and 2014, Sol y Luna has 341 units with 9,140 square-feet of retail space. The acquisition surpassed its previous largest acquisition, Skyloft in Austin, Texas, by nearly $100 million.
"We're extremely excited to have acquired one of the most compelling and premier student housing properties not only in the Arizona market, but in the entire PAC 12," said Patrick Nelson founder and chief executive officer of Nelson Partners. "Along with Skyloft, we now have the best student housing properties in the BIG 12 and PAC 12. It's really an extraordinary time for Nelson Partners."
Nelson Partners also owns Wildcat Canyon Village Student Housing at 1050 E 8th Street in Tucson that it purchased in June, 2019 as a value-add investment. The student housing property is comprised of 76 units with private one- and two-bedroom apartments totaling 128 beds and was 96 percent occupied at time of sale. Property amenities include a swimming pool with sun deck, clubhouse, basketball court, coffee bar, study lounge, controlled access, and game room.
Wildcat Canyon Village is a value-add opportunity that will undergo interior and exterior renovations conducted by Nelson Partners Construction Management team.
Nelson Partners is a student housing owner-operator with more than a decade of acquisition, management and development experience in student housing. The firm oversees 35 properties across 13 states totaling more than $800 million in assets under management and $400 million in development.
Sol y Luna claims residents a premium experience that caters to both the social aspect and the educational aspect of life near the U of A. To learn more, see RED Comp #7473 and #6941.