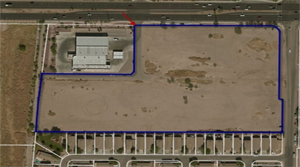 TUCSON, AZ — Scottsdale, Arizona-based SWH, LLC (Nick Christifulli and Jodi Johnson, managers) an affiliate of Christifulli Companies  has purchased 11.38 acres at the southwest corner of Valencia and Headley in Tucson for $3.3 million ($6.66 PSF) from JVBM Properties, LLC (James Click, Jr. and Robert Tuttle, members).
Larry Cesar, partner and vice-president at Broadway Realty & Trust in Tucson represented the seller and will represent the developer for sale and for lease at the new 75,000-square-foot shopping center, when fully built out.
Cesar told us the center will wrap around the large Octopus Car Wash at the westside of property, and consist of a bank pad on the corner of Headley & Valencia, several 17,700-square feet clothing stores and restaurants have shown interest in the center. Cesar is submitting plans to the City and expects blading to begin in approximately 60-days.
Located in the Midvale area, the new center is a block away from Tucson's latest 104,000-square-feet Fry's store at 1805 West Valencia, under construction with an anticipated opening this March-April. Cesare also handle the sale of the Fry's site for Tuttle-Click
Buyer and developer, Christifulli, prior to establishing Christifulli Companies, was a founding partner of Vertical Holdings Company; a firm focused on community and neighborhood retail projects and long-term triple net build-to-suit developments for national retail tenants. Formerly representing a number of national retail tenants in the Western United States including: AMC Theaters, Barnes & Noble Booksellers, Staples, Ross Dress for Less, Sports Authority, Home Base and Brinker International, among others. Christifulli has been in the shopping center business for more than 28 years and has been involved in over 20 million-square-feet of development and leasing.
For many years, Christifulli served as the Vice President of Development and Leasing for Westcor Partners, now a part of Macerich. Christifulli's latest major retail development was Chauncey Ranch Center in Scottsdale, a 173,000-square-feet Whole Foods anchored shopping center.
"We've already had tremendous enthusiasm from tenants for this project," Christifulli said.
Valencia is a main arterial road serving the Southwest Tucson submarket with approximately 50,000 average vehicles per day. Neighboring tenants include Walmart Supercenter, Lowe's and several banks and restaurants.
Kurt Kalocin, vice-president of SRS Real Estate Partners in Phoenix represented the buyer / developer in this transaction.
For additional information, Kalocin can be reached at 602.682.6078 and Cesare should be contacted at 520.584.5804 for leasing and sales interest.
To learn more, see RED Comp #4190.