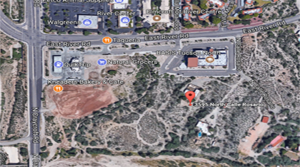 TUCSON, Arizona – MC Companies of Scottsdale purchased 12.65 acres at River and Craycroft in Tucson for $3 million ($5.42 PSF). The site is at the southeast corner and will be used for construction of a 210-unit upscale apartment complex.
The first new apartment complex for quite some to be built in Tucson, the demand has finally out reached the supply of high-end apartments to warrant the new construction
GT Alley with Broadway Realty & Trust handled the transaction and is a member of the selling entity, Craycroft River Holdings, LLC (Joseph Cesare, manager).
There are 14 other MC Communities in Tucson including The Place at Village at the Foothills, The Place at Edgewood, The Place at Canyon Ridge, The Place at Rock Ridge, The Place at 2120, The Place at 7400, The Place at Broadway East, The Place at Nine90, The Place at Spanish Trail, The Place at Ten50, The Place at Twenty-Two, The Place at Wilmot North, The Place at Creekside, and The Place at Presidio Trails.
The new site sold with infrastructure and is expected to break ground on this new community in 45-60 days for Summer 2018 opening.
For more information, Alley can be reached at 520.747.5700.
To learn more, see RED Comp #5164.