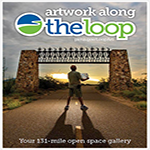 Pima County has created a printed map and webpage of more than four dozen pieces of art along the Chuck Huckelberry Loop, Pima County's 131-mile shared-use path.
Users are able to enjoy the art thanks to the Pima County Board of Supervisors' longtime support of a Pima County Public Art Program. The Board established the policy back in 1990 to allocate one percent of the cost of public works' projects on public art.
Some of the works seen along the Loop are not part of the Public Art Program, but instead are generous donations by civic-minded Loop lovers. Art helps shape the quality of life for people in Pima County by offering a form of expression that embodies the community's spirit. It also attracts people who bring a broad array of talents and experiences to the community.
Among the clever creations Loop users will see while strolling or biking its paths:
A metal sculpture of bats popping wheelies while astride a mountain bike;
Tilework chronicling the story of Spanish explorer Juan Bautista de Anza and Padre Eusebio Kino
Cascading rain and raindrops depicting the abstract movement of water using 2,000 iridescent glass marbles and broken tile.
The Public Art Program is meant to not only beautify the community, but also to increase employment opportunities in the arts, actively encourage emerging artist of culturally diverse backgrounds and advance other community goals, such as youth development and delinquency prevention.
The Loop Art map is available at the County Administration Building and at Natural Resources, Parks and Recreation headquarters at 3500 W. River Road. Art lovers also may visit pima.gov/LoopArt where they can download a PDF of the map and expand each river park segment to view a photo of each piece of art, find the name of the artist and when it was installed and read a brief description of the piece.