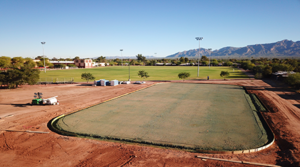 TUCSON, ARIZONA — Concrete was poured this weekend for the DEK rink at Doolen Middle School. The Arizona Coyotes and Tucson Roadrunners are donating this as part of their EMPowerplay initiative. It will be the first multipurpose outdoor DEK rink to be built within the Tucson Unified School District.
The Coyotes, Roadrunners and EMPowerplay partners are intrinsically involved in developing Hockey and youth sports throughout the region and are committed to not only the growth of local hockey, but the development of the program itself and being part of the bigger picture of Tucson youth sports – this not only helps encourage new local participation but exponentially increases the chances of overall success in the region.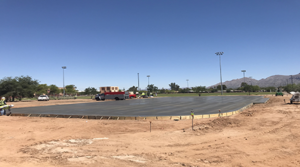 In order to achieve this, the DEK initiative removes the need for expensive equipment needed to play hockey and can say: no ice, no skates, no problem – everyone plays!
Mark Irvin, CCIM, SIOR, of Mark Irvin Commercial Real Estate Services and on the Emeritus Board of the Boys & Girls Club of Greater Tucson, sent photos of the joint initiative project Monday morning.  Irvin also sits on the Rio Nuevo Board as its Vice Chair/Secretary and was instrumental in helping bring the Roadrunners to Tucson.
"This is the first of what we hope are many DEK rinks scattered across Tucson," said Irvin. "We are exploring similar opportunities with the YMCA and are open to others, especially those with groups who are impacting youth.  Mayor Rothschild has been invaluable as has TUSD Superintendent Gabriel Trujillo and Michael Konrad, the Director of middle schools. They all share a similar and contagious passion for youth.  It's great to work with the Mayor on something other than Rio Nuevo.  He gets it.  The Boys and Girls Clubs, which will administer the facility, will be outstanding."
Doolen Middle School is at 2400 N Country Club Road in Tucson, and already houses a Boys & Girls Club. The multipurpose rink can be used for other sports besides hockey, including basketball, pickle ball, even volleyball. The project partners, strategy and business development leaders hope to evolve a DEK hockey league system, with multiple locations throughout Tucson including clinics with Roadrunner players.
Construction time for the multipurpose rink is expected to be 8-weeks, so should be ready for the start of the school year, at a final cost to the Arizona Coyotes and Tucson Roadrunners of $195,000, with no cost to TUSD, as part of this private-public partnership.
To learn more, the DEK Hockey Initiative as presented can be found HERE.