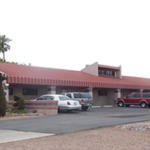 Dr. Fadi Deeb and Dr. Manal Altuemi recently purchased the office building at 1505 N Swan Road in Tucson for $432,000 ($90 PSF) for redevelopment.
Plans are to demolish about half of the current 4,800-square-foot building for construction of an additional 8,400-square-foot Gastroenterology surgical center on the site.
The Class-B, 4,800-square-foot office was built in 1986 for a medical office on .72 acres, near Tucson Medical Center, south of Pima Road on Swan.
Dr. Fadi and Dr Manal currently with Consultants in Gastroenterology will be moving from 5190 E Farness Drive, in the same general area, once redevelopment is complete.
Ron Zimmerman Commercial Specialist with Cushman & Wakefield | Picor in Tucson represented the seller, Swan Office Investments (James Conway, trustee) in the transaction. Gary Andros, CCIM, of Andros Commercial Properties negotiated the purchase for the buyers.
For more information, Zimmerman can be contacted at 520.546.2755 and Andros should be reached at 520.419.5742.