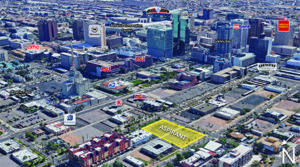 PHOENIX, ARIZONA -- The Fillmore District in Downtown Phoenix continues to experience revitalization and significant new development.  Aspirant Development has purchased 1.2 acres fronting on the north side of Fillmore Street between 2nd Avenue and 3rd Avenue.  The property was purchased from The Fillmore Group, LLC, a Los Angeles / Hong Kong based Seller.
The purchase price was $3.5 million ($6.70 PSF) and is planned for 220-units in a 12-14 story apartment tower.
Ray Cashen of Cashen Realty Advisors was the Broker on the transaction.
Aspirant Development is also developing a 312-unit, 19-story apartment tower known as The Stewart located at the northwest corner of Central Avenue & McKinley.  That property under construction is slated to open in 2019.
The Fillmore District has been the recent focus of many developers, including Wood Partners who has built a 230-unit, 4-story apartment complex and Trammell Crow who will break ground this year for a 609-unit, 7-story apartment complex along Fillmore Street.  Additionally, Fore Development is in Escrow to purchase 2.7 acres at the southwest corner of 2nd Avenue & Fillmore Street and 2.0 acres located at the northwest corner of Monroe and 2nd Avenue is also in Escrow, both slated for high-density residential development.
Block 23 is under construction with builder, Red Development.  That project is a residential and retail tower which includes the first Fry's grocery store in Downtown Phoenix.  The adjacent Block 24 is in Escrow with Hines Development who will be building a 30-story residential / hospitality tower over an existing four-level parking structure at the Collier's Center Project.
Cashen has been involved in numerous Central Phoenix infill deals and is assembling another 2-acre parcel along Fillmore that he says will be the site of a future 15-story residential tower.
Central and Downtown Phoenix continue on a vibrant pace of residential development.  All of the amenities are now in place.  At long last, diverse employment, transportation, entertainment, education, services and a wide spectrum of residential options have combined to transform Downtown Phoenix into a very desirable urban environment.
For additional information, contact Ray Cashen at 602-393-4447.