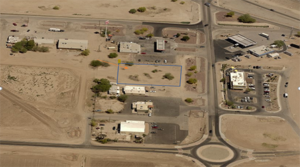 MARANA, ARIZONA – Revere Investments of Mesa (Robert Campbell, manager) purchased 27,000-square-feet of land in Marana for $515,000 ($19 PSF) for construction of a Jack-in-the-Box Restaurant.
Located across from McDonalds near Circle K, south of Marana Road on Sandario near the new roundabout. The buyer dedicated a portion of the property (21,000 SF) to the Town of Marana for road work, leaving 27,000-square-feet for construction of a 2,700 to 3,000-square-foot Jack-in-the-Box.
Will White and John Carroll of Land Advisors Organization-Tucson represented the seller, S. Chu Times Three, LLC (Susan Ong, manager). White and Carroll are the contacts for the balance of the Ong Family holdings in Marana.
"The Sandario Road area near the new roundabout is getting a lot of attention. The surge of new home activity in north Marana is fueling new demand for supporting uses," said White. "The area is underserved from a commercial standpoint and we expect to see a lot of activity up there to fill that void."
David Lee of David Lee Real Estate Company in Tucson represented the buyer, Revere Investments and continues to seek other development opportunities the area.
For more information, White and Carroll can be reached at 520.514.7454 and Lee should be contacted at 520.795.3199.
To learn more, see RED Comp #6525.