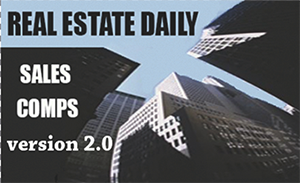 TUCSON, ARIZONA — The latest release of the Real Estate Daily News' RED COMPs Software version 2.0 includes several new enhancements in the area of geo-coding searches. Visual design, speed, year selection and selection of most recent comps enable certain tasks to be performed up to six times faster than the previous version.
"The new features were driven by our strong focus on customers' needs. Some of whom work from home, where internet bandwidth is often not as fast as at the office for visually demanding mapping features; and as our comps database continues to grow, now with close to 4,000 records, we never want speed to be an issue when performing certain tasks anyplace," said Karen Schutte, Director of Research at RED Comps.
"Faster is always better, but combined with the quality of researched and confirmed  information, our comps are second to none and essential for accurate commercial real estate knowledge of the market," says Schutte. "The collective enhancements in RED Comps 2.0 are designed to help users see at a glance the commercial sales across multiple county lines in Southern Arizona."
New functionality also helps RED Comps users select or deselect properties allowing them to drill down for more targeted details. These along with other enhancements help users optimize the sales research knowledge found only in the RED Comps database from duplexes to the largest commercial property sales – we have them all.
For additional information, or for a free trial run of RED Comps 2.0, contact us at Real Estate Daily News 520.877.2656 or REDailyNews@outlook.com