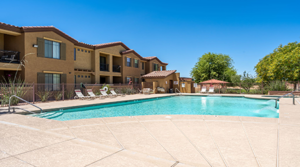 New Owner Plans to Complete Build-Out of Acacia Lofts Community
Phoenix, Arizona – New York-based Diamond Equity Partners has purchased Acacia Lofts in Casa Grande, AZ for $4,910,000 ($175,360 per unit).  The company plans to complete the build-out of the community, Phase I of which was originally constructed in 2008.
"Casa Grande is showing signs of economic growth with the announcements from Lucid, Nacero and Nikola. This city has not seen any new multifamily construction since 2008 yet it has seen a 20% population growth this cycle," says Chris Roach with Colliers International in Arizona.  "With vacancy rates at historical lows and Phoenix Metro leading the nation in rent growth, Casa Grande is ripe for multifamily development. Our buyer closed on this project with all cash and will look to build out the remainder of the project at some point."
Diamond Equity Partners, based in Monsey, NY, purchased the property from Praxis Capital, Inc. of Santa Rosa, CA.  The sale was negotiated by Chris Roach, Brad Cooke, John Finnegan and Matt Roach of Colliers International in Arizona.
Located at 1456 E. 9th St. in Casa Grande, Acacia Lofts features Class A, condo-quality units.  The property currently includes 28 individually platted units totaling 41,140-rentable-square-feet.  Prior to Praxis acquiring the property, the original developer spent more than $9 million to purchase land, develop infrastructure and construct the existing 28 units.  Those units, which average 1,622-square-feet, are 100 percent occupied.  Phase II of the project will involve 152 additional platted lots on 11.98 acres. Units at Acacia Lofts include both two-bedroom and three-bedroom floorplans. The fully gated community features a pool, barbecues, playground and sand volleyball court.