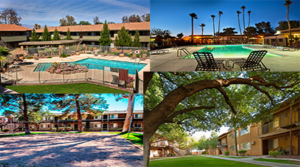 Multifamily Portfolio Sells for $46 Million
Updated: 3/1/2017
Tucson, Arizona — New York-based, Dasmen Residential (Michael I Katz, CEO) purchased a 1,166-unit portfolio in Tucson from Omninet Capital of California for $46 million ($39,451 per unit). The transaction marks the buyer's entry into Tucson and its first acquisition west of the Mississippi.
"Our goal is to bring these four apartment communities to the next level in terms of interior upgrades, as well as commons area improvements," says Michael Katz, CEO of Dasmen Residential, LLC. "Historically, we purchase assets of similar vintage and upgrade them with high end finishes that rival any new construction deal such as Quartz Countertops and Stainless Steel Appliances. With numerous development projects in the works across the city, along with job growth showing very positive signs, DASMEN feels that Tucson is on the rise. We feel that its economy is growing at a very strong and healthy pace. With its hands-on management approach, DASMEN will look to offer the residents of all four communities impeccable service and to do our part in ensuring that Tucson continues to become a great and successful city."
Omninet Capital acquired the portfolio in August 2014 for $34.65 million ($29,717 per unit) and at that time it was the largest multifamily units and sale price sold in Tucson multifamily since 2010. This is no longer the situation in 2017.
Cindy and Brad Cooke with the Greater Phoenix office of Colliers International brokered both transactions on behalf of the sellers.
"The timing for Tucson market is highly opportunistic for investors," said Brad Cooke, senior vice president of Colliers International in Greater Phoenix.   "It is experiencing strong job growth and looks to be headed toward even stronger economic performance in coming years. With new businesses and development projects, the job market is seeing a rise in the high-wage job sectors, nationally recognizable businesses bidding for entry to the market. Healthy population growth will continue to support tenant demand for apartment properties."
"We're pleased to see the multifamily market going so well in Tucson," said senior executive president Cindy Cooke, "the job growth over the past year and projections for 2017 made this a good deal for both buyer and seller."
All assets were built between 1973 and 1984. They include:
– Sedona Springs, 373 N. Wilmot Road (408-units)
– Sienna Ridge, 5353 E. 22nd St.(305-units)
– Summit Ridge, 1252 S. Craycroft Road (360-units)
– Verrano Park, 6850 E. Golf Links Road (93-units)
Dasmen Residential LLC, a privately held real estate investment firm that owns and operates multifamily properties in major cities throughout the United States, makes opportunistic investments in growth markets and employs a range of strategies to create value and sustain long term asset appreciation. The company seeks to continue exceeding its goal of providing outstanding risk adjusted returns to its partners while providing the best possible living experience in its communities.
The portfolio was over 95% occupied at time of sale. Properties were being managed by MEB Management Services by seller and will continue management for new owner. MEB can be contacted at 520.620.1640.
For more information, the Cooke Multifamily Investment Team and Cindy and Brad Cooke can be reached at 602.222.5000.
See RED Comps #1922, #1923, #1924 and #1925 for prior transactions and RED Comp #4571.