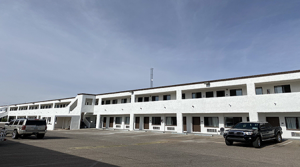 SIERRA VISTA, ARIZONA -- Sierra Vista Casitas, LLC (Jarrett Reidhead, manager) purchased a 25,356-square-foot, extended stay hotel property at 201 W. Fry Blvd. in Sierra Vista, AZ back in January and announced this week renovations are complete and ready for official opening next week.
The 69 room Desert Inn Apartments & Motel has undergone a $400,000 renovation and with it a rebranding to Sierra Vista Casitas. It will offer monthly rentals of studios, one-, two- and three-bedroom units.
The renovation includes upgraded kitchens with new appliances: refrigerators, dishwashers, electric stove/oven and upgraded counters and cabinetry. FREE WiFi, cable and modern laundry facilities. Also featured is a sparkling swimming pool with poolside lounging. Take advantage of the regularly planned resident events. It is also a pet-friendly community located minutes from Highway 90 and popular destinations – Fort Huachuca, Mexico and Tucson.
Shelton Residential of Sierra Vista will be professionally managing the property for the new owner.
Sierra Vista Casitas was purchased from ZONA Investments SPE, LLC for $1.1 million ($16,000 per room).  Allan Mendelsberg, Principal, and Conrad Martinez, Multifamily Specialists with Cushman & Wakefield | PICOR, represented the seller in the transaction.
Jarrett Reidhead of Pinnacle Realty Investors was self-represented in the purchase.
Photos showing some of the room renovations made.