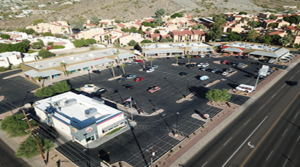 PHOENIX, ARIZONA — Neighborhood retail center, Mountain View Plaza, recently sold for $5,225,000. The property consisted of three buildings totaling just over 26,000 SF on approximately 2.70 acres.  The retail plaza is located at 9812 – 9832 N. 7th St. in Phoenix, which is in close proximity to North Mountain Park, Sunnyslope Park and Honor Health John C. Lincoln Medical Center.
Local restaurateurs and brothers, Robert Brescia and Dino Brescia represented by Justin Horwitz and Paul Borgesen of SVN Desert Commercial Advisors, sold the center to Hawaiian based investor, Rajan Watumull of Watumull Enterprises represented by Brian Kocour of Kocour Companies.
Over the course of 27 years of owning the center, the Brescia brothers were able to successfully build a loyal tenant base which includes Scramble, Mucha Lucha Taco Shop, VCA Animal Hospital, and Ziggy's Il Posto Ristorante, which the Brescia Brothers originally operated under the name Our Gang Café before selling.
Justin Horwitz and Paul Borgesen of SVN Desert Commercial Advisors represented the Brescia's in the transaction and successfully sold the property in what ultimately was a ninety-day transaction.  It was said Horwitz, "We were very thankful that the Brescia's allowed us the opportunity to be involved in this sale. It was evident from the start that this center carried far more value than just a typical real estate transaction given their history in the center, as well as they close relationships they forged with the tenants and the community." Horwitz and Borgesen focus heavily on property sales along the Central Corridor. According to Borgesen, "This transaction is just another indicator that validates the continued positive trend we are seeing along the Central Corridor."