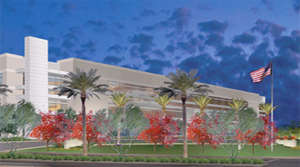 CHANDLER, AZ – Eric Flyckt, senior vice president and Wyatt Campbell, vice president of NorthMarq Capital's San Diego office, arranged a $32,650,000 construction loan and $13,500,000 mezzanine equity investment for a Class A spec office project located in Chandler, Arizona. The development comprises two, three-story, buildings totaling 270,000-square-feet. The non-recourse loan was provided by a bank and the mezzanine equity was funded by an insurance company for whom NorthMarq is a correspondent.
Park Place is a ±180-acre business park assembled and developed by the Douglas Allred Company beginning in 2007. It is located at the intersection of the 101 and 202 Freeways in one of the fastest growing employment corridors in Metropolitan Phoenix. In addition to Class A office buildings, this master-planned park includes restaurants and hotels. These two buildings will offer 10' to 12' ceiling heights and 6/1,000 parking. To date, the Douglas Allred Company has completed eight Class A, spec, office buildings in the park totaling over 635,000-square-feet which are 100 percent leased.
Douglas Allred Company, based in San Diego, is a full-service real estate firm with projects in office, industrial, retail and residential sectors. The 37-year-old firm is a recognized leader in both real estate development and asset management.
"We thoroughly scoured the market so as to source non-recourse construction lenders and equity investors who would finance a spec office project. We were able to secure interest from several groups who offered competitive terms and were attracted to this project due to its strong location in a very healthy market, the quality of the buildings, and the Douglas Allred Company's expertise and solid track record of building and leasing similar spec projects throughout the Phoenix area and in Southern California," noted Flyckt.
For more information, Campbell can be reached at 858.675.7860.