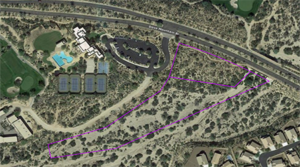 Marana, Arizona – Northwest Fire District (NWFD) knowing time is of the essence in an emergency has purchased two new sites for stations: a 2.76-acre parcel in Dove Mountain for $735,781 ($6.12 PSF) and a 1.48-acre lot at Gladden Farms for $400,00 ($6.20 PSF) both in Marana, Arizona.
"Northwest Fire District's stations are strategically located throughout the District to ensure help arrives as quickly as possible," Dugger Hughes, Deputy Chief, Logistics of Northwest Fire told us.  "The location of each fire station is based on an assessment of the growing community's specific risks, call loads and types, and areas that offer rapid responses to handle these identified risks."
The last station built in the district was constructed in 2010 at Tangerine and Thornydale, 12095 North Thornydale Road in Marana, Station #39. With the tremendous growth in residences in the northwest, additional stations are now needed to maintain or improve services, as well as to reduce response times and could have a big impact on Marana.
A third new station is planned for Twin Peaks and I-10 on 2.5 acres of land that was donated to the District and will follow the relocation of Station #37 to the Dove Mountain site and construction of the new Gladden Farms station.
NWFD also has plans to construct a new 13,500-square-foot Administration Building west of I-10 adjacent to its current training center at 5125 W Camino de Fuego in Marana where it owns 12-acres. Anticipated delivery of this building is early Summer 2018.
The expenditures for these projects are made possible through bonds approved by voters last fall.
Core Construction Company of Tucson has been selected for all of these projects to act as General Contractor.
Will White with Land Advisors Organization in Tucson handled the transactions with associate, John Carroll on both the Gladden Farms and Dove Mountain sites. The seller at Gladden Farms was Crown West Realty (Dean Wingert, member) and Tortolita Properties, LLC (Art Powell, member) at Dove Mountain.
For more information, White and Carroll can be reached at 520.514.7454.
To learn more, see RED Comp #5430