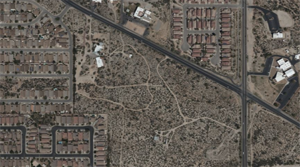 TUCSON, ARIZONA – Northwest Hospital, LLC closed on its new site at 2200 South Houghton Road, located near Old Spanish Trail and Houghton Road in the southeast submarket of Tucson.  The 19.7 acres sold for $7.042 million or $357,470 per acre.  Northwest Star Properties of Tucson was the seller.
Northwest Healthcare announced in January its plan to develop a 70-bed hospital on this site as part of Northwest Healthcare's "No Boundaries" strategy to increase access points to quality healthcare services for Tucson and surrounding communities. The plan was contingent upon approval of the primary jobs incentive by the City of Tucson's mayor and council, before closing on the land purchase.
This eastside hospital location follows an earlier announcement in May 2018 of Northwest's plans to build an 18-bed neighborhood hospital and medical offices facility in Rancho Sahuarita. That hospital will open in early 2020.
Kevin Stockton, Regional President and Market CEO for Northwest Healthcare, said, "We stepped outside of our 'northwest' footprint more than eight years ago when we opened an urgent care in Green Valley.  Since then, our commitment to deliver quality care at convenient access points throughout Pima County has not wavered.   We have long wanted to provide acute care services for residents on the east side of Tucson. With the success of our freestanding Emergency Room and physician clinics in Vail, this new hospital is a logical and very exciting next step."
The eastside hospital will offer a broad range of services designed to keep residents close to home. Anticipated services include, but aren't limited to, an Emergency Room, cardiac cath lab, comprehensive surgical services, labor and delivery including a NICU, outpatient imaging and a medical office building housing primary care, orthopedics, cardiology and OB/GYN. With an anticipated opening date of early 2021, the new 183,000-square-foot facility and related physician offices/services hospital will have 70 beds with space to accommodate future growth and will employ more than 595 people.
Since 2014, Northwest Healthcare has invested nearly $70 million in capital projects to increase access and enhance health services for the Tucson community:
QuickMed walk-in clinics in Southwest Tucson, Central Tucson and Marana;
Urgent care at Speedway and Silverbell;
The county's first freestanding emergency department (FSED) in Vail and a second FSED location in Marana
Northwest also expanded its clinic locations with primary care and cardiology services in Vail (next to the FSED) and relocated primary care services in the Cortaro Farms area.
According to Stockton, "Our goal is to make it as easy as possible for patients to receive care in the most appropriate setting, when and where they need it.  We look forward to serving even more of the healthcare needs of residents in the eastside communities through this new facility."
To learn more, see RED Comp #7157.