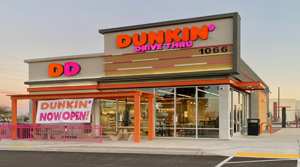 TUCSON, ARIZONA – ADT PROPERTIES of Tucson (Roy Patel, manager) bought 2.1 acres at 2171 West River Road in Tucson for $625,000 ($6.80 PSF). Located west of the southwest corner of River Rd. and La Cholla Blvd, the acreage has cross access with Circle K on the corner.
ADT plans to split the lot into two pads and construct a Dunkin' store and resell the other half pad site. The River Road Dunkin' is slated for completion by year end.
This will be the fifth location for the Dunkin' franchisee that in February opened a new 2,100-square-foot prototype Dunkin' store at 1066 West Grant Road in Tucson.
"The building is a cool, modern buildout," said Kevin Volk of Volk Company who is exclusive representative for the buyer. "The ordering kiosk for quick orders must have helped them navigate through the coronavirus crisis while being able to stay open for business."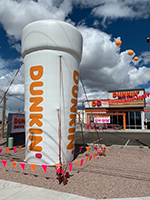 As Dunkin' continues to navigate the COVID-19 health crisis, the brand has simultaneously continued to advance key sustainability initiatives to serve both people and the planet responsibly. Dunkin' this week announced that 100% of its restaurants globally have transitioned from polystyrene foam cups to paper cups, meeting the timetable established by the brand two years ago. In Dunkin' U.S. restaurants, the foam cups have been replaced by double-walled paper cups. Dunkin' is also on track to fully transition to new, recyclable hot coffee cup lids in all of its U.S. restaurants by the end of the summer and is committing to doubling its number of DD Green Achievement™ restaurants within five years.
Founded in 1950 and based in Canton, Mass., Dunkin' is America's favorite all-day, everyday stop for coffee and baked goods. Dunkin' is a known market leader in the hot regular/decaf/flavored coffee, iced regular/decaf/flavored coffee, donut, bagel and muffin categories. The company has more than 13,100 restaurants in 41 countries worldwide.
David Lee of David Lee Real Estate Company, a principal and managing member for E&S Irving LLC, the selling entity, handled the transaction for the seller.
For more information, Lee can be reached at 520.954.8008 and Volk is at 520.236.9003.
To learn more see RED Comp #6970 and #7665.