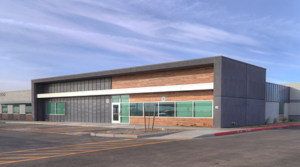 Service Center Building for EPCOR Completed in 10 Months
Scottsdale, Arizona – NOVO Development (Kurt Rosene, Justin Miller & Stephen Hulston) has completed the first building at CenterPoint Logistics Park in El Mirage, AZ.  The build-to-suit facility was developed in just 10 months for EPCOR.
Located at 8700 N. El Mirage Rd., the building was created as an area service center for the water company.  "We laid out a nearly impossible challenge for NOVO when we tasked them with this project," says Kimberly Dotray, real property manager of EPCOR.  "The expertise and dedication they brought to the effort was invaluable to us.  They knew exactly how to navigate the process and keep the development on its strict timeline."
"Our in-house capabilities allowed us to fast-track this project for EPCOR," says Justin Miller with NOVO Development. "Being able to assist EPCOR in land acquisition due diligence, design and entitlements in pre-construction, as well as overseeing the general contractor and all aspects of the development under one roof, was integral to the project's success."
Ware Malcomb served as architect for the project and Wespac was the general contractor. EPCOR was represented by James Bayless with CBRE. NOVO Development is the preferred developer of CenterPoint Logistics Park and handled the project development.
CenterPoint Logistics Park consists of 1,400 acres zoned for industrial usage. The master planned park is owned by John F. Long Family Trust.  The Long Family arranged the industrial zoning with the intent of protecting Luke Air Force Base.  The campus spans on the north/south from Peoria Avenue to Northern Avenue and on the west/east from Dysart Road to El Mirage Road.  The property is rail served by BNSF and approved as a Foreign Trade Zone.  The new Northern Parkway runs on the southern boundary of the property and will soon extend across the entire lower portion of the park with two full diamond interchanges to access the park.
Rail service is being further extended inside the park and will create more than 300 acres of rail-served land.  Available sites within CenterPoint Logistics Park range from two to 500 acres.  The park is being marketed to users ranging from small, local companies needing their own facility up to major corporations with requirements of a million square feet of distribution space.
Pat Feeney, Dan Calihan and Rusty Kennedy of CBRE serve as exclusive sales agents for CenterPoint Logistics Park.