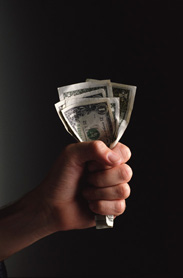 WASHINGTON, DC – Playing it safe and planning ahead, Americans plan to stash their tax refunds into savings this year. According to the National Retail Federation's annual Tax Returns Survey conducted by Prosper Insights and Analytics, 47% of those expecting a refund plan to put the money into savings, the highest percentage in the survey's history. Nearly two-thirds (65.7%) of those surveyed are expecting a refund.
"Americans are thinking of the future, and remaining financially secure is a big part of that," NRF President and CEO Matthew Shay said. "A check from Uncle Sam gives consumers the ability to pay down debt, add a cushion to their savings or splurge on a vacation or big-ticket item."
Consumers have a plan for how they will use their refunds: 39.1% will pay down debt and 25.1% plan to use it for daily expenses. While 13% say they will splurge on a vacation, 10.5% plan to spend on a major purchase like a television or car.
Young adults are making wise decisions for their future as 54.9% plan to put refunds into savings. But not all young adults are headed to the bank – 32.2% will spend on everyday expenses and 15.4% will make a major purchase. More than half of Americans ages 25-34 (53.2%) plan to tuck away their refunds in savings or use their refunds to pay down debt (47.6%).
"Perhaps having learned a few financial lessons from their parents during the economic downturn, it appears that Millennials are looking for ways to get ahead," Prosper Consumer Insights Director Pam Goodfellow said. "Less likely to be saddled with mortgages and accumulated debt, tax refunds represent the perfect opportunity for younger consumers to invest in their future."
According to the survey, 64% plan to file their taxes online. Additionally, 37.4% will use computer software to prepare their taxes on their own, while 12.5% will do so manually. Others plan to have a spouse, friend or relative help (9.5%) and 22.2% will use an accountant.
With most consumers planning to file in February (35.8%), 23.8% have already filed or plan to file in March (24.9%),
The survey is designed to gauge consumer behavior and shopping trends related to tax returns. The poll of consumers was conducted from February 3-10 and has a margin of error of plus-or-minus 1.3 percentage points.