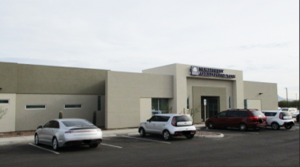 MARANA, ARIZONA – A subsidiary of Diamond Ventures in Tucson (Bill Kelly, CFO) sold the building occupied by Northwest Allied Physicians at 7890 N Cortaro Road in Marana for $2.875 million ($368 PSF).
The 7,805-square-foot build-to-suit was built by the seller in 2017 and is fully occupied by Northwest Allied Physicians Cortaro.
Northwest Allied Physicians specialize in family medicine, gynecology, gynecologic surgery, internal medicine, cardiothoracic surgery, women's imaging, orthopedics, gastroenterology, endocrinology, and more.
With offices located conveniently throughout the northwest Tucson area, the physicians of Northwest Allied Physicians are at the center of the range of services offered by Northwest Healthcare Network and can coordinate care with Outpatient Imaging, The Women's Center, The Wound Care Center at Northwest, Outpatient Therapy, Inpatient Rehab, and Oro Valley's Sleep Center.
Jaime Medress with Marcus & Millichap of Phoenix represented the Diamond Ventures and Humason Properties of Reno, NV (Robert Humason, Jr., manager) was represented by Todd Blonsley with Marcus & Millichap of Reno.
For additional information, Medress can be reached at 602.687.6778 and Blonsley is at 775.348.5220.
To learn more, see RED Comp #5519.